Topic and directions 
The main aim of the project was to create a new landmark, a meeting spot for the citizens of Krakow which encourages valuable social dialogue, meeting new people and building social connections.
Placemaking 
One of the most important aspects of the whole process was placemaking. The concept consists in creating public spaces with an holistic approach to planning, design and management. It means much more than simply designing small architecture. It's a process of responding to the real needs of citizens and engaging the local community.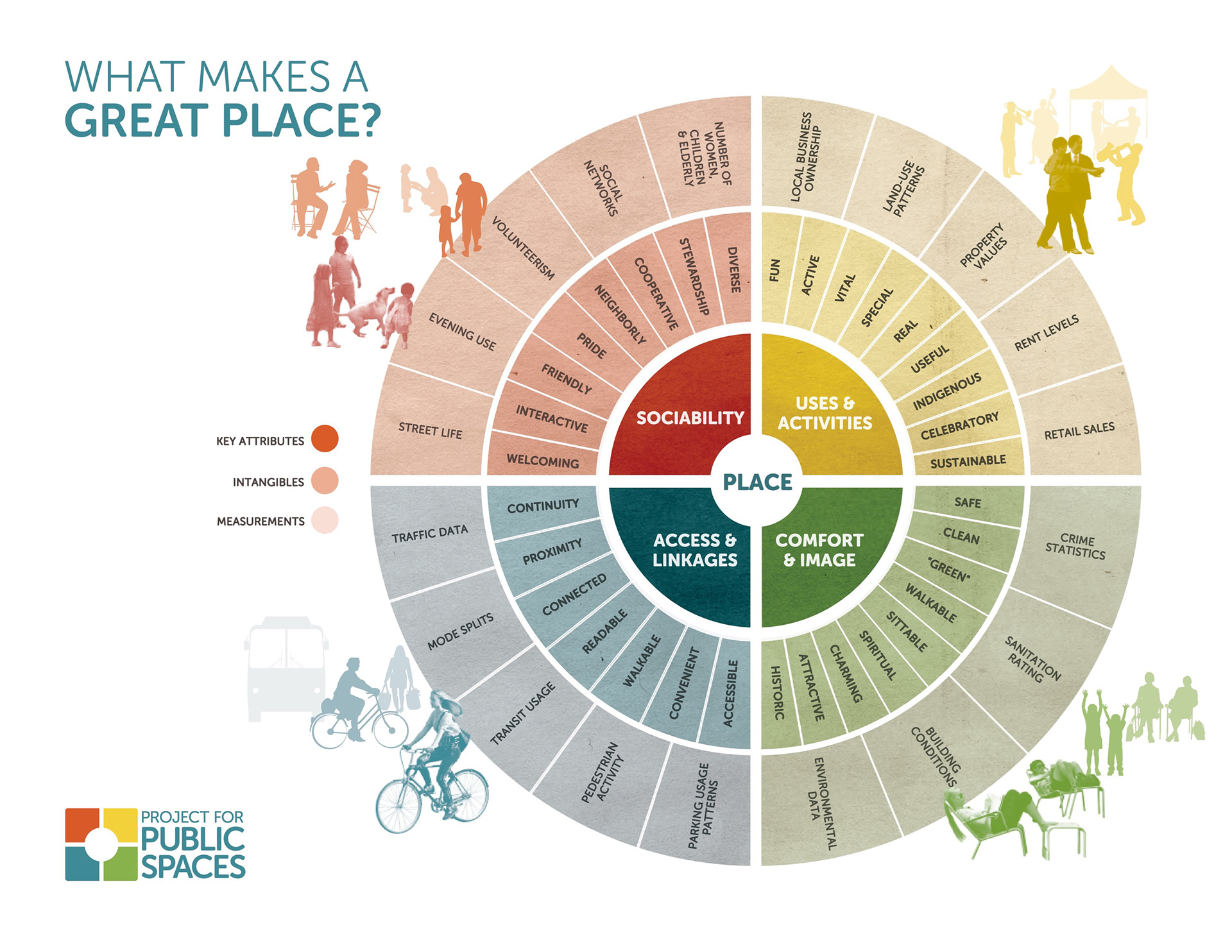 "Postcard city"
The main problem to address is local government policy causing gentrification and the fact that in Krakow tourists' needs are placed above those of local citizens. As a result the city has become more of an aesthetic "postcard" than a place to live. Poverty and homelessness are pushed to the outskirts. I believe that the best trademark for the city is to treat citizens in a good way regardless of their social status.  
Research
Choosing the right spot is a crucial element in the placemaking process. I undertook research based on observing local public spots such as parks and river areas to better understand the essential features which make public spaces attractive and popular.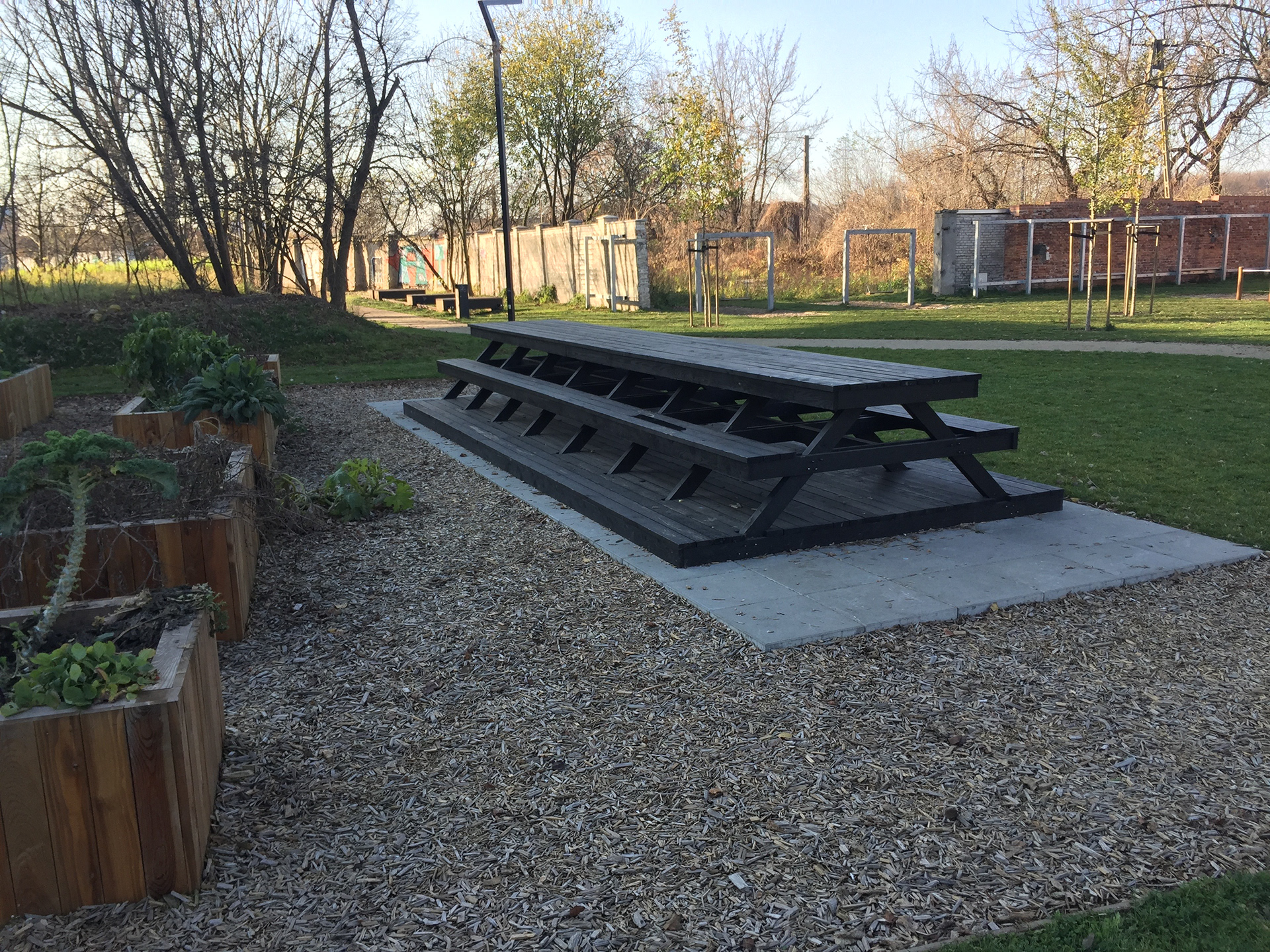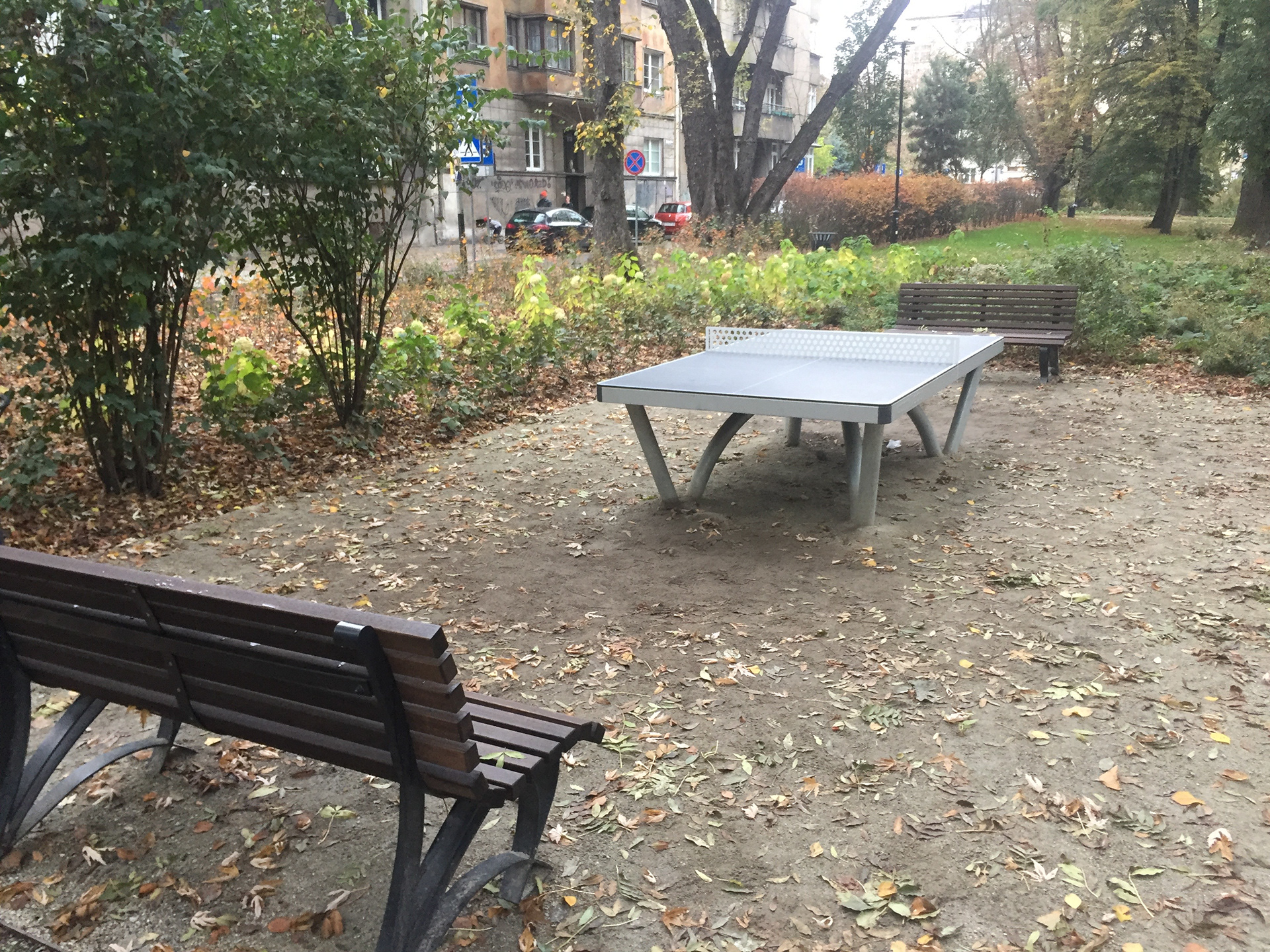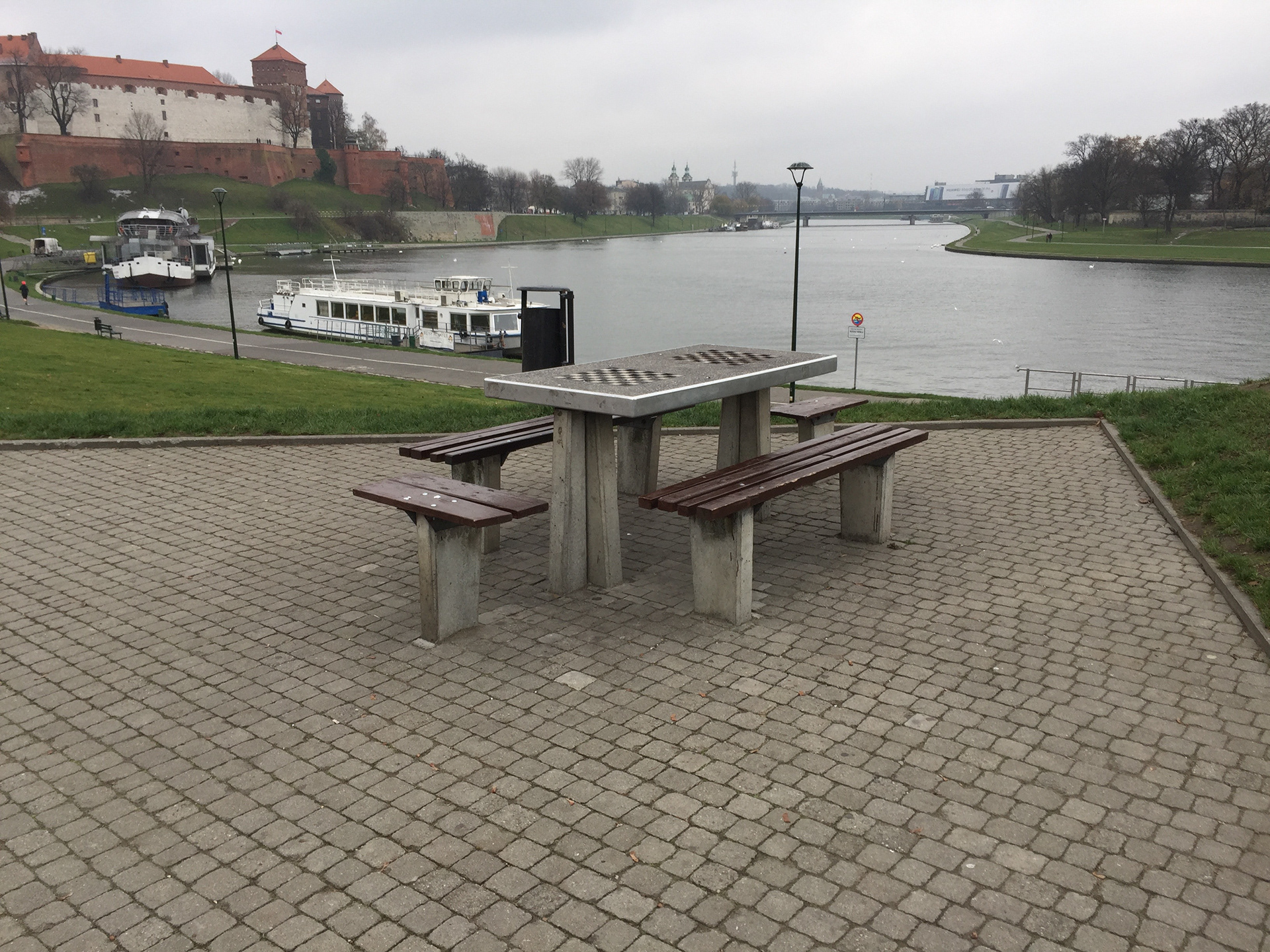 Social Table
Social Table can be defined as a situation which provokes dialogue. It is a pretext for meeting, getting to know new people and networking.
A table is an important object from a sociological and cultural point of view. It's not only a place to eat or work. It's a symbol of people meeting together.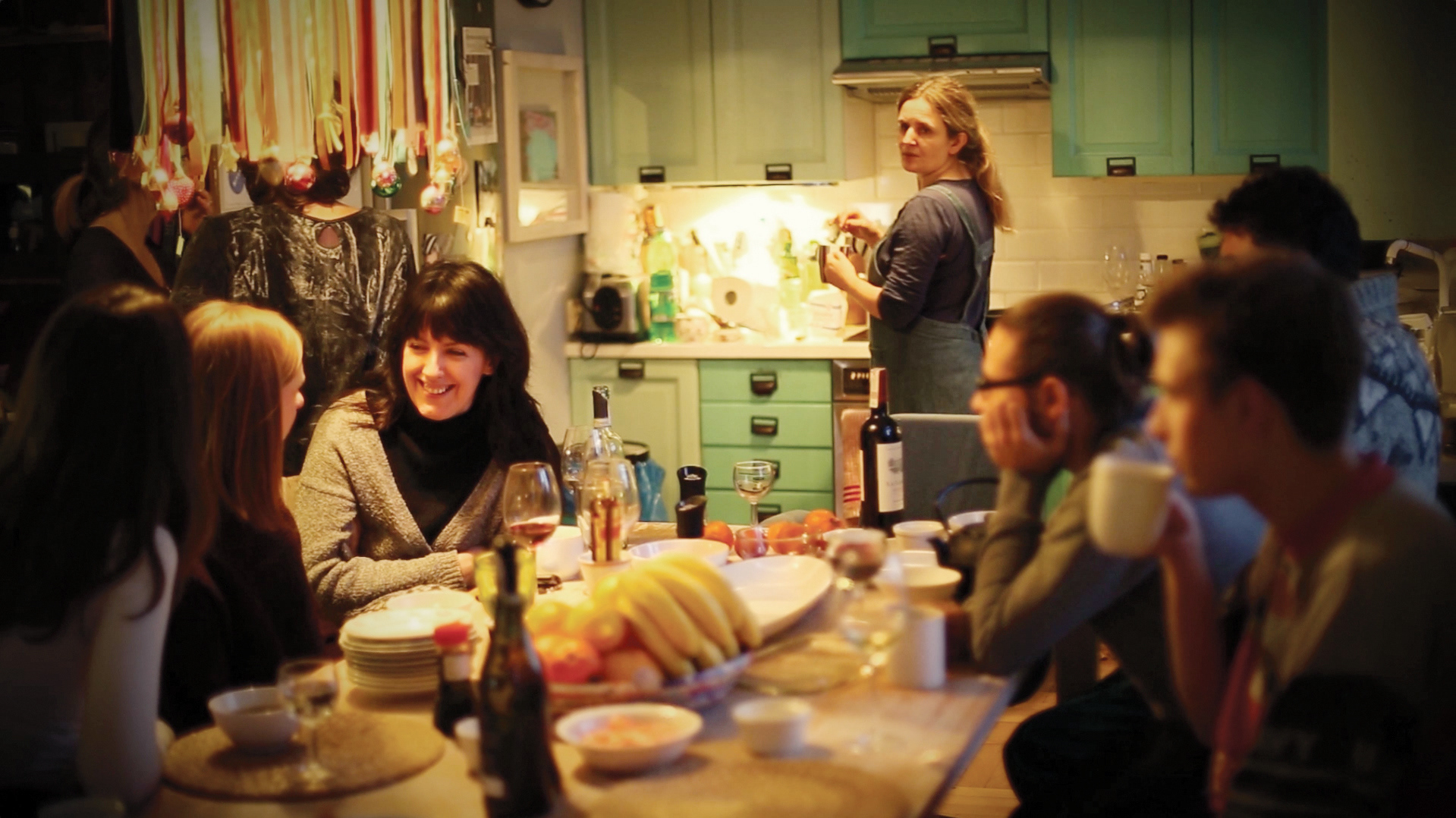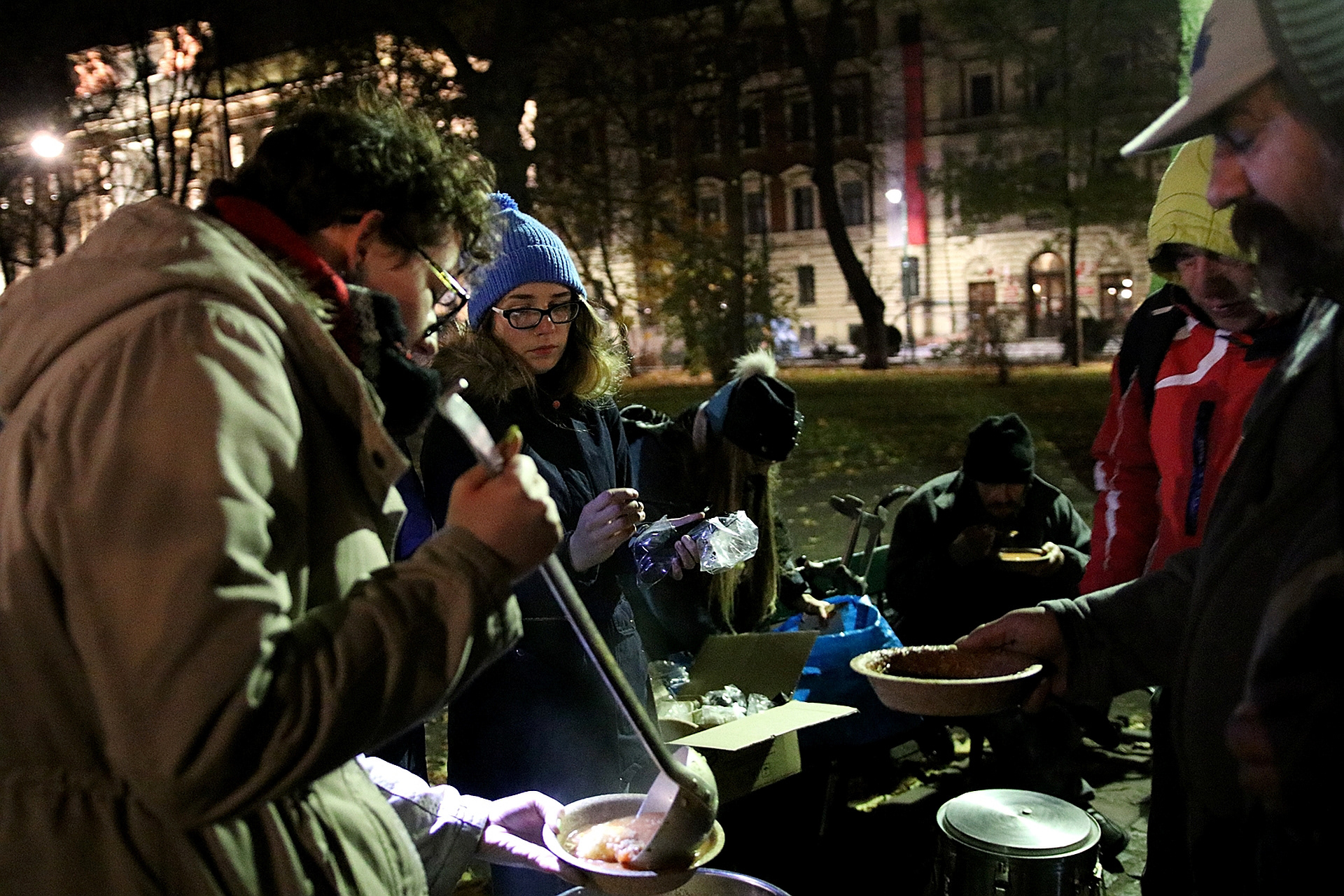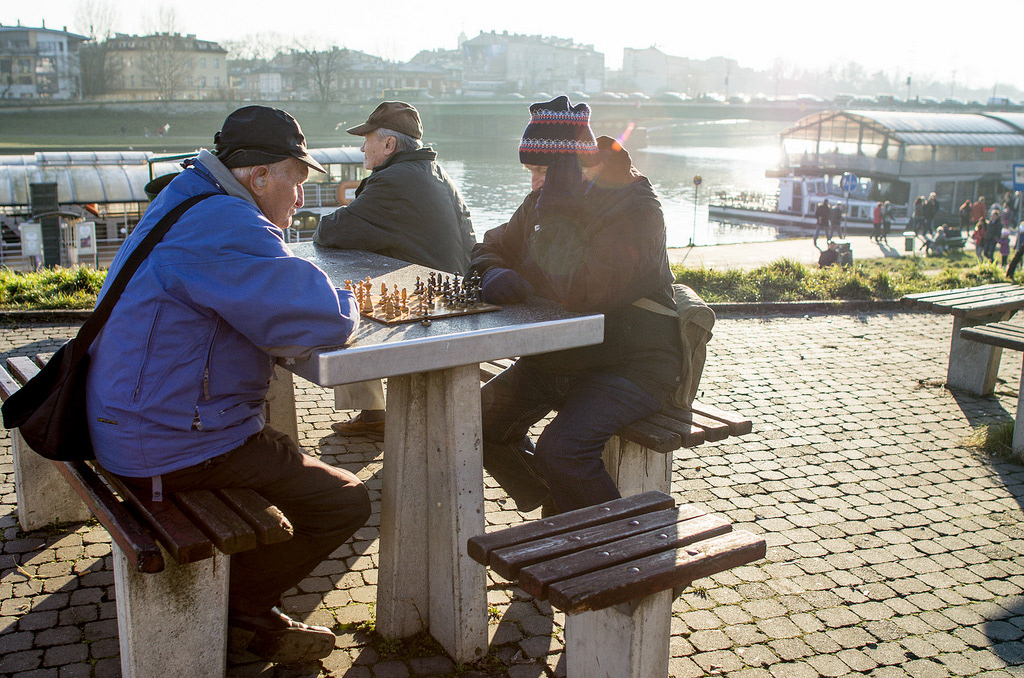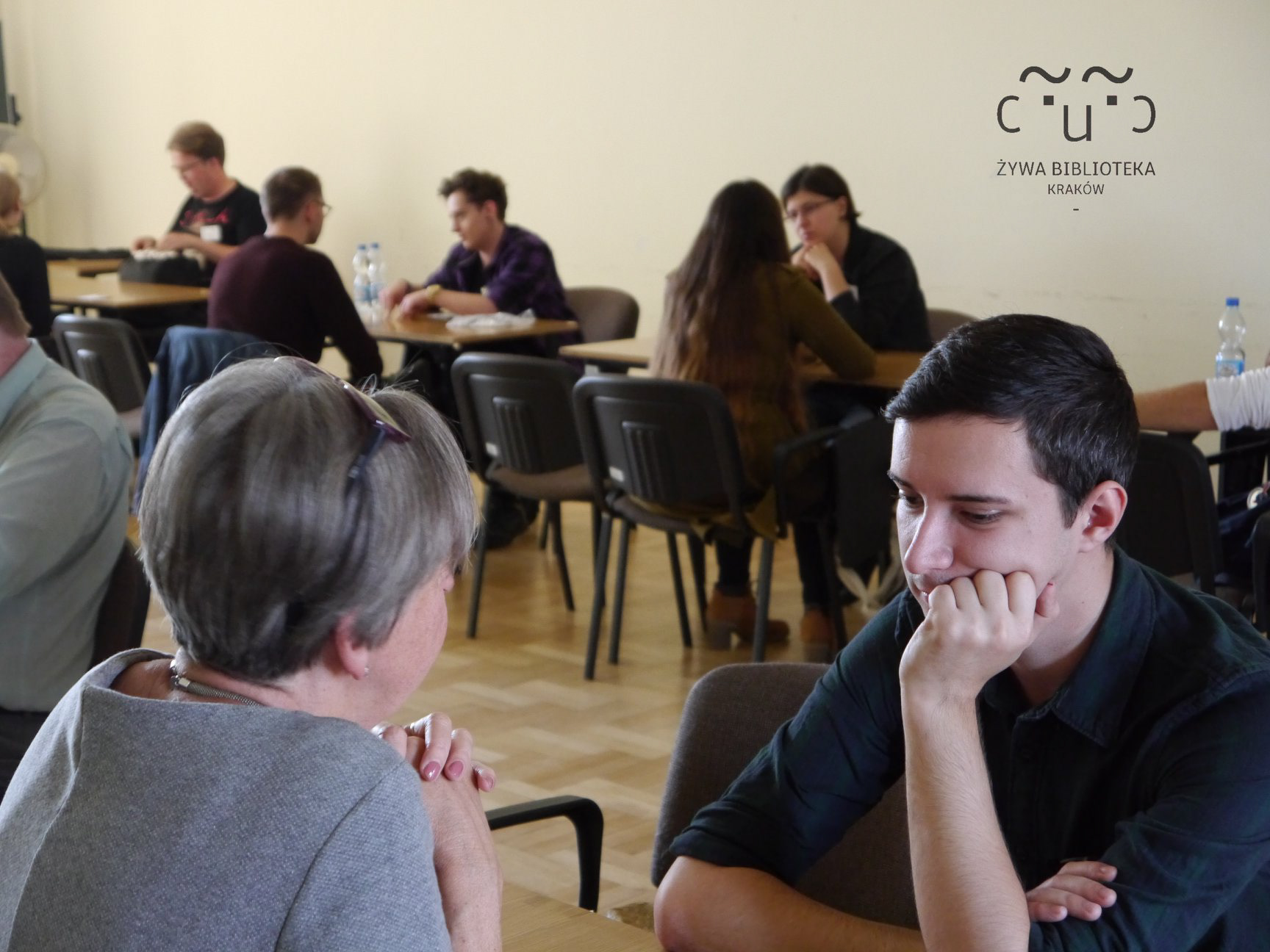 Soup on Planty
'Soup on Planty' is a Polish charity organisation feeding homeless people every Sunday evening in Krakow on the Planty - the green park area surrounding the city's Old Town. 
Immersive research

The first meeting was in 'Soup on Planty' headquarters where the soup is prepared. The next meetings were at the serving place on Planty (a park area surrounding central Krakow). Every Sunday at 6pm volunteers serve the soup from a bench to homeless people. Most of the attending people are new ones, and returning participants constitute around 20%. The most important observation is that during the whole people are chatting, eat whilst standing up, moving from place to place. Nobody sits on the benches. The whole event takes around one hour.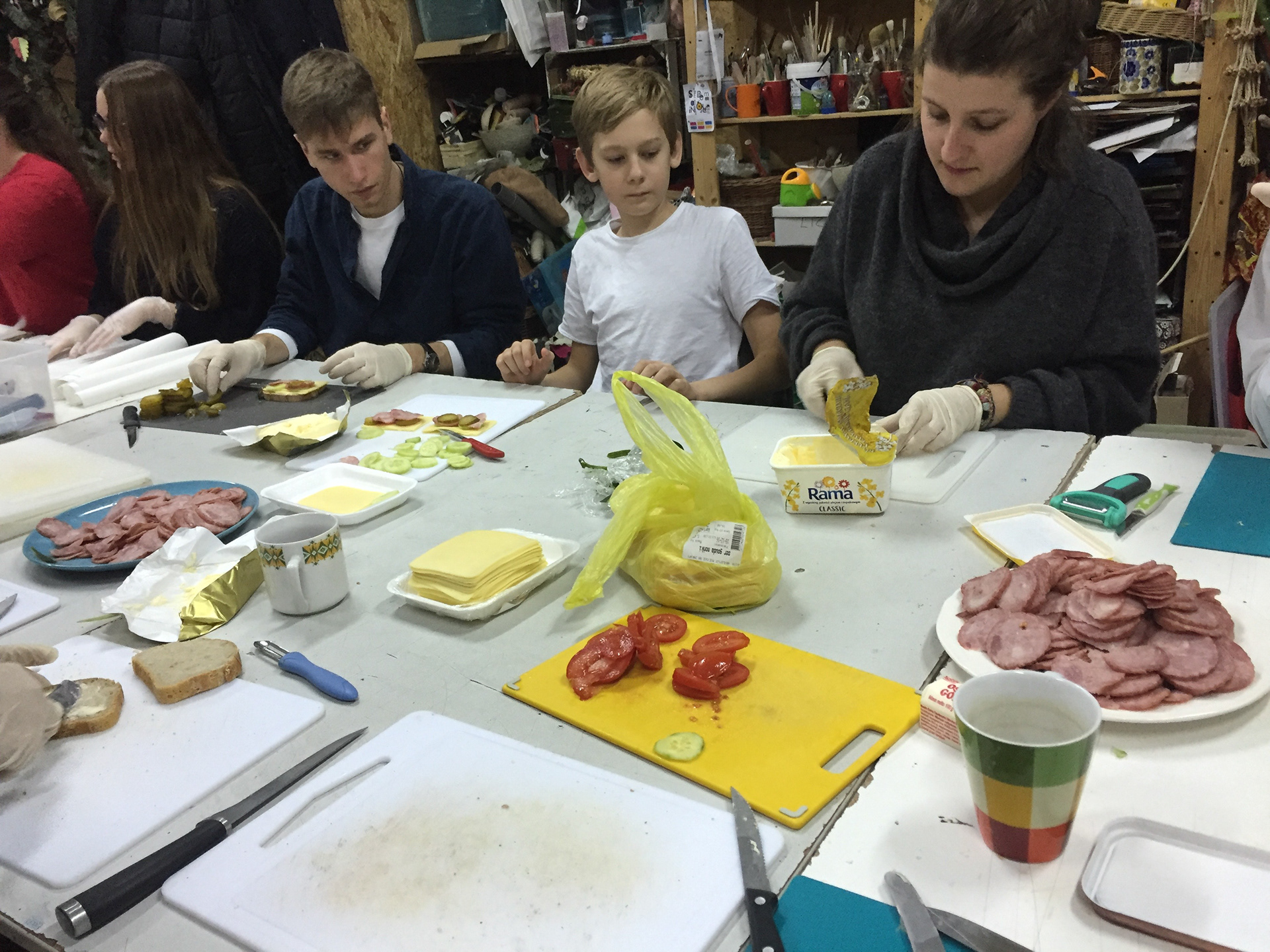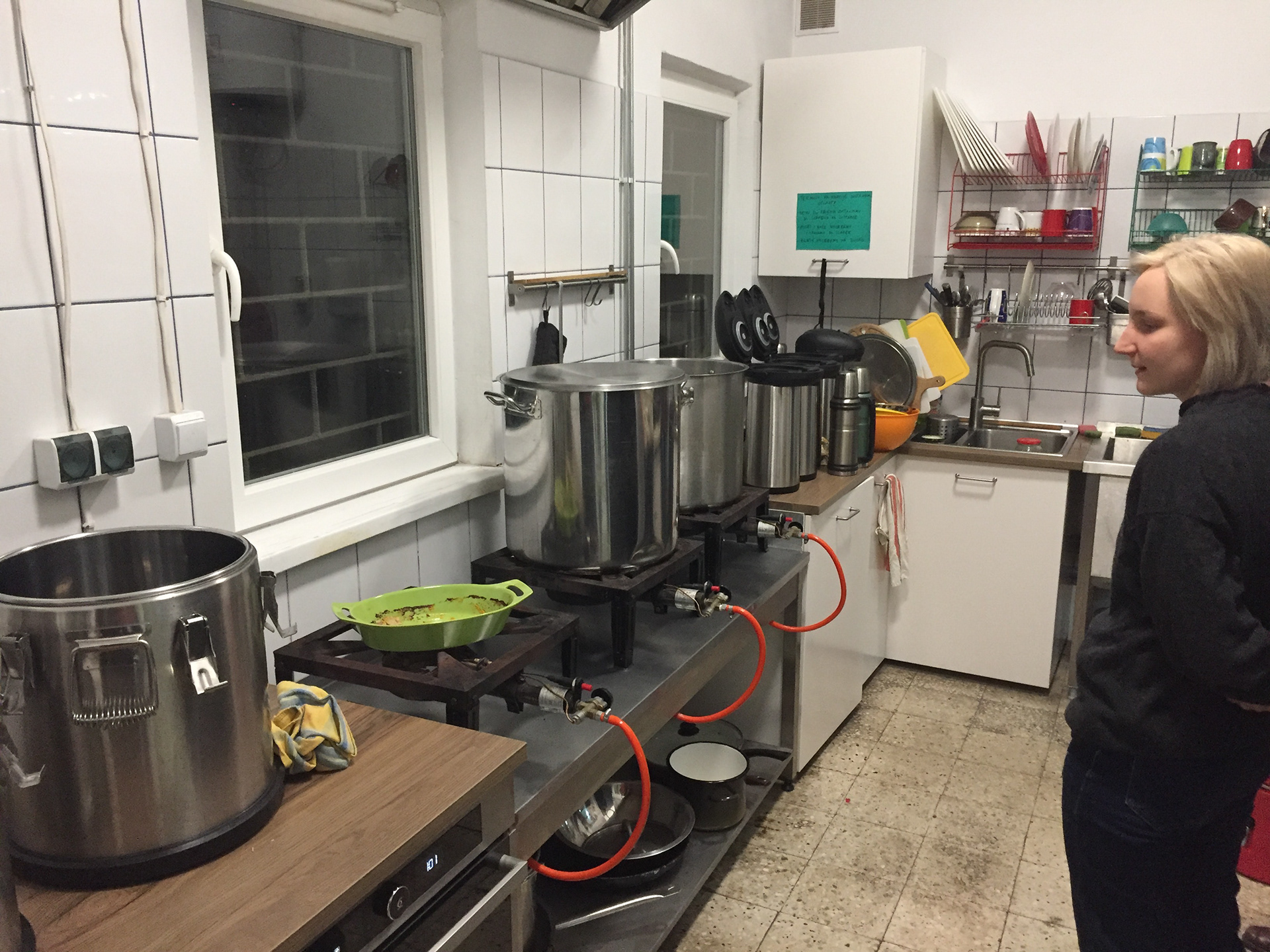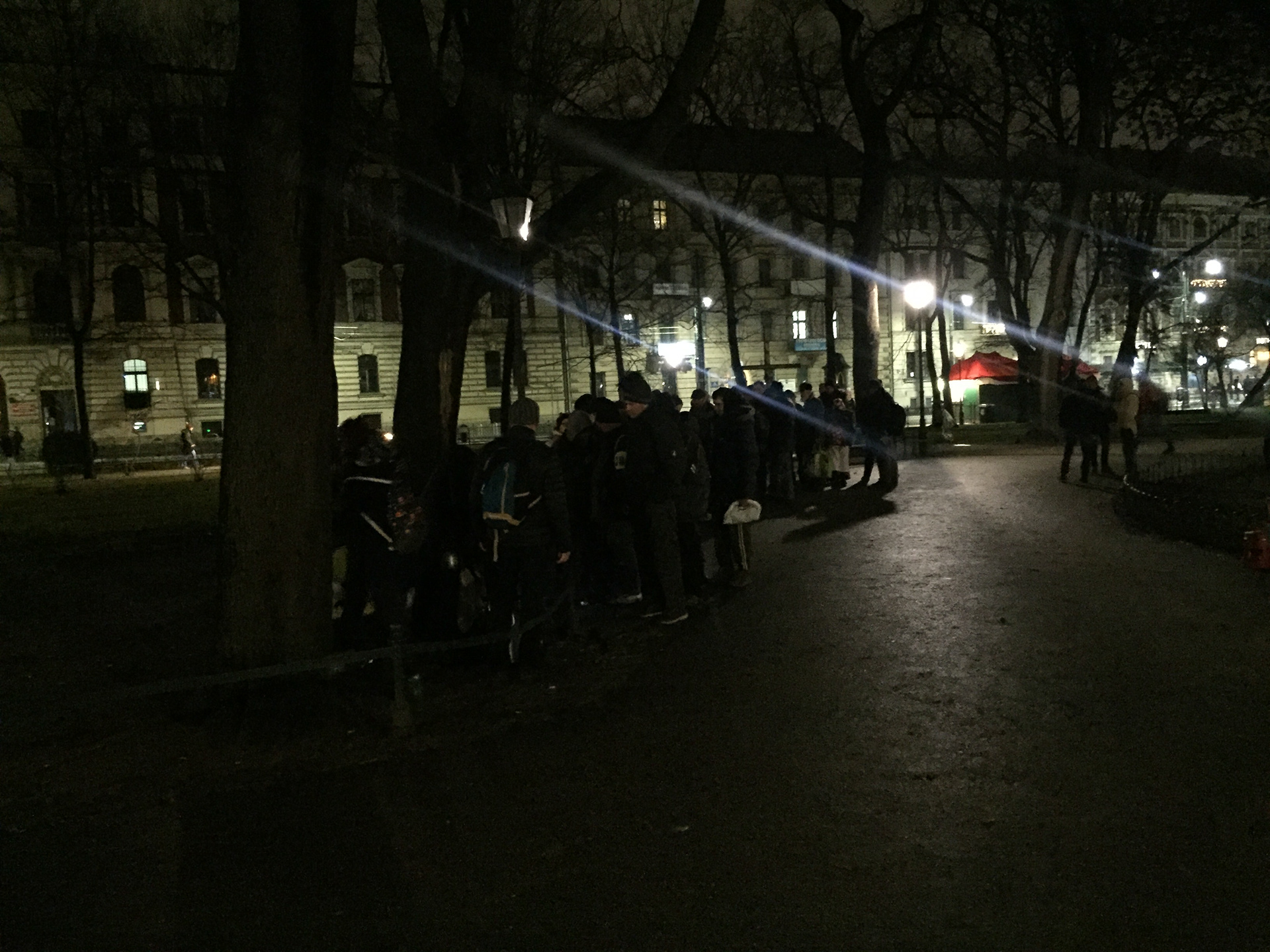 But there is more than the soup. More organisations are joining the event. From a small, one-organisation event it has grown to a more diverse event – with soup, books, coffee & tea, medical treatment, clothes and donations of thermoses. Each bench has become an organisation spot for each service, so there is no place for participants to sit. 
During the event the place became very crowded, with people cutting into the queue. A lot of participants have bags or backpacks and there is no dry and safe space to leave them and eat comfortably.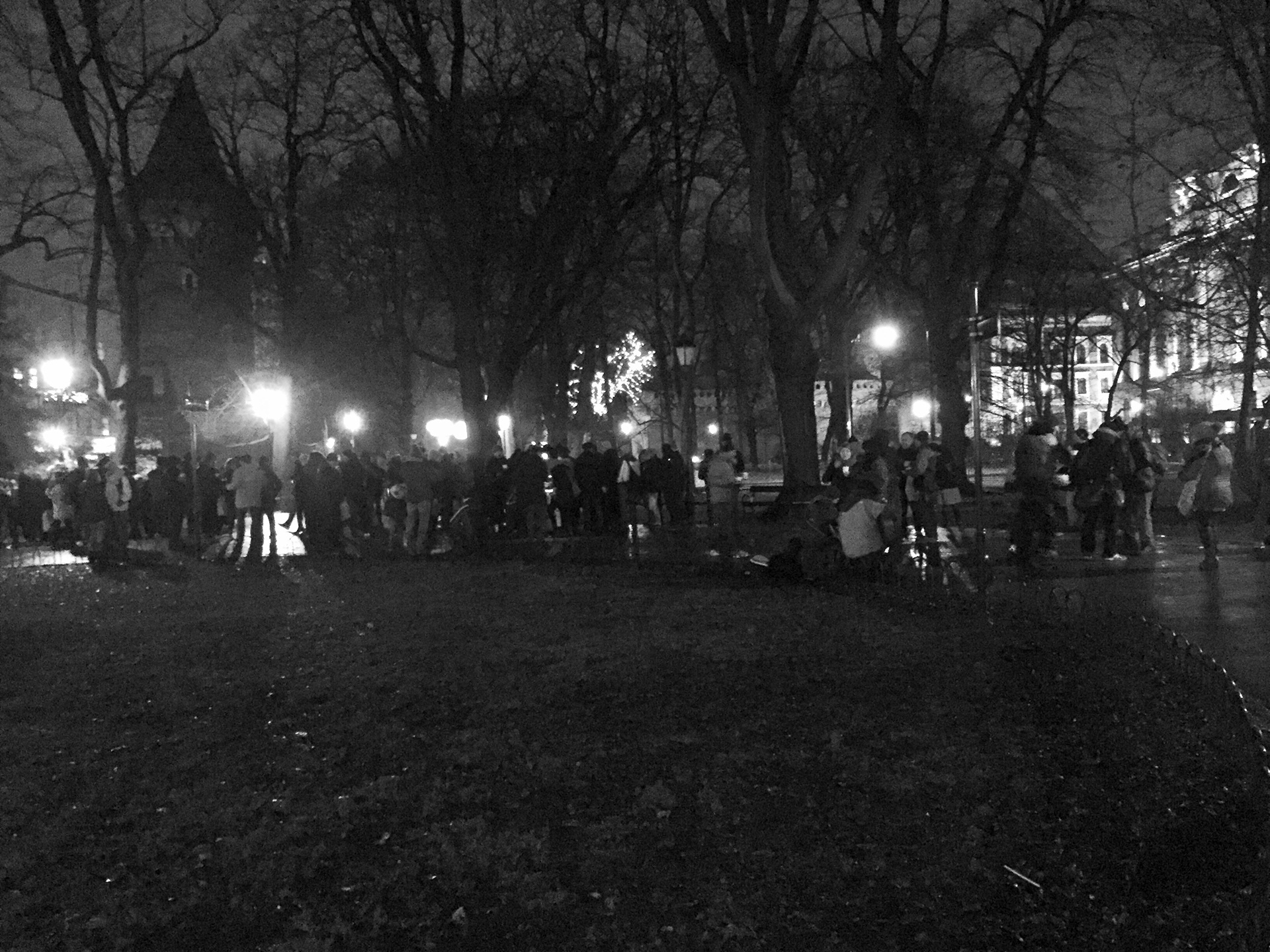 Location and users
The event is located in a crowded area near to the theatre, central train and tram stations on the way to the Market Square.
We can divide users of this space into three groups. First, 'Soup on Planty' participants whose most important needs are to eat comfortably and leave bags etc in a safe place. 
Secondly, local residents who use this spot for a short break, for example to wait for the tram or drink coffee. A lot of cyclists also pass through and stop for a while. 
Thirdly, It's also one of the first places that tourists see after they arrive in Krakow. Nearby there is a tourism information centre. 
Ideation
During the ideation process I used a number of design methods such as Design Thinking or Google Design Sprint.
The first stage of creating conceptions involved an intensive workshop for several days.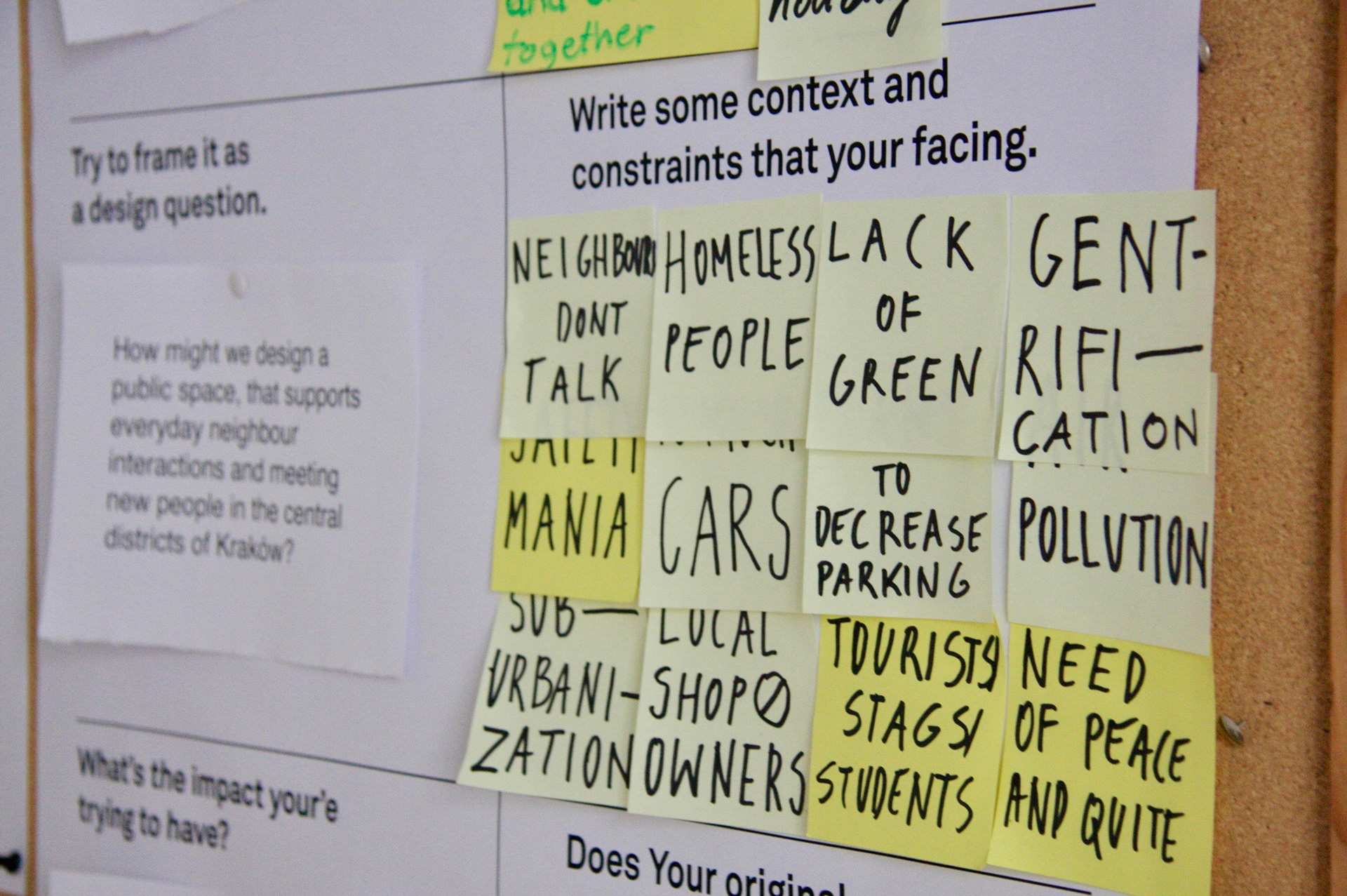 The Frame Your Design challenge method from IDEO turned out to be very helpful at this stage. Thereafter I decided to take a divergent approach, based on creating as many options as possible. At this stage I used the Crazy 8's method.
In the end I chose the 3 most promising ideas to develop further.​​​​​​​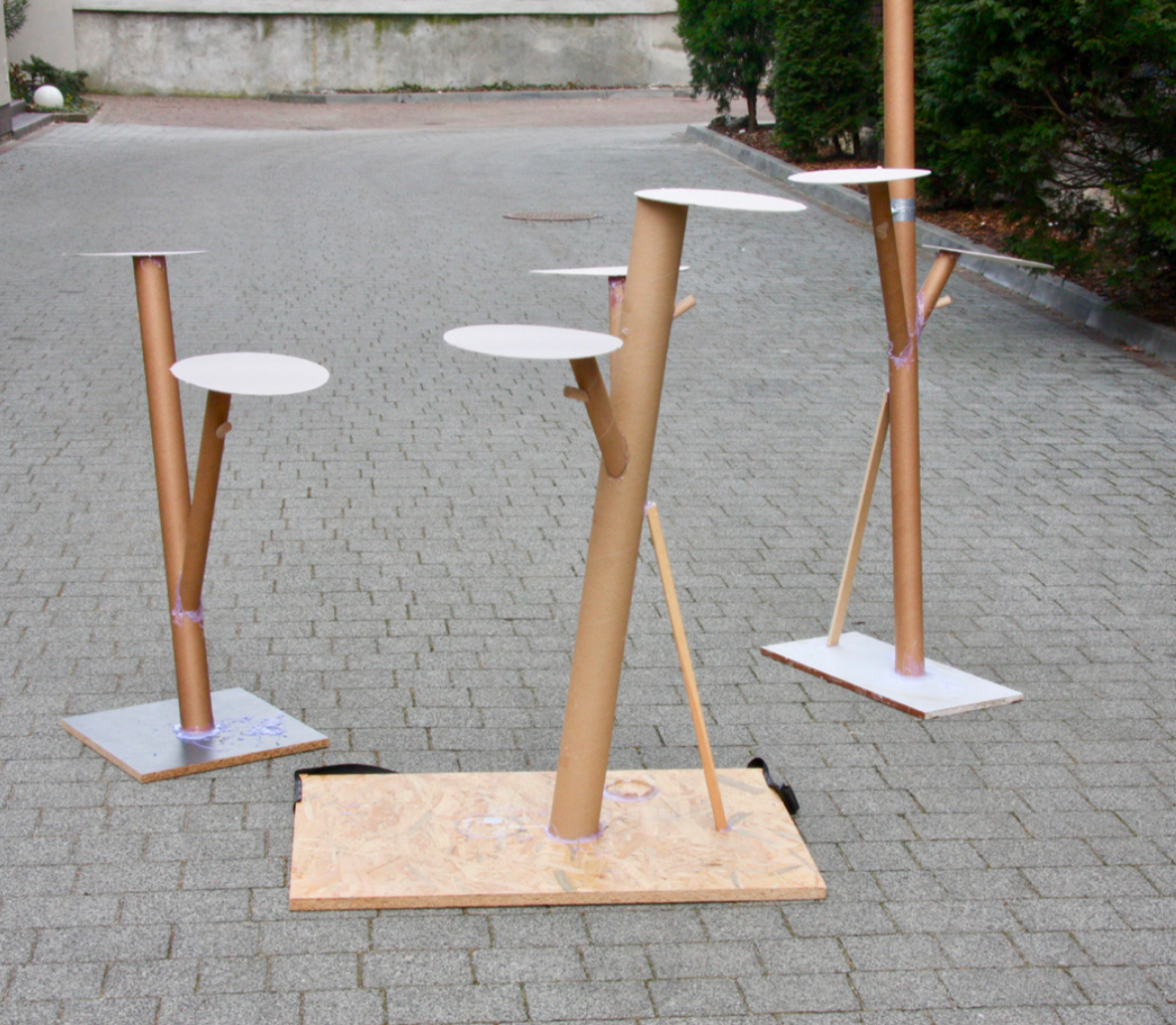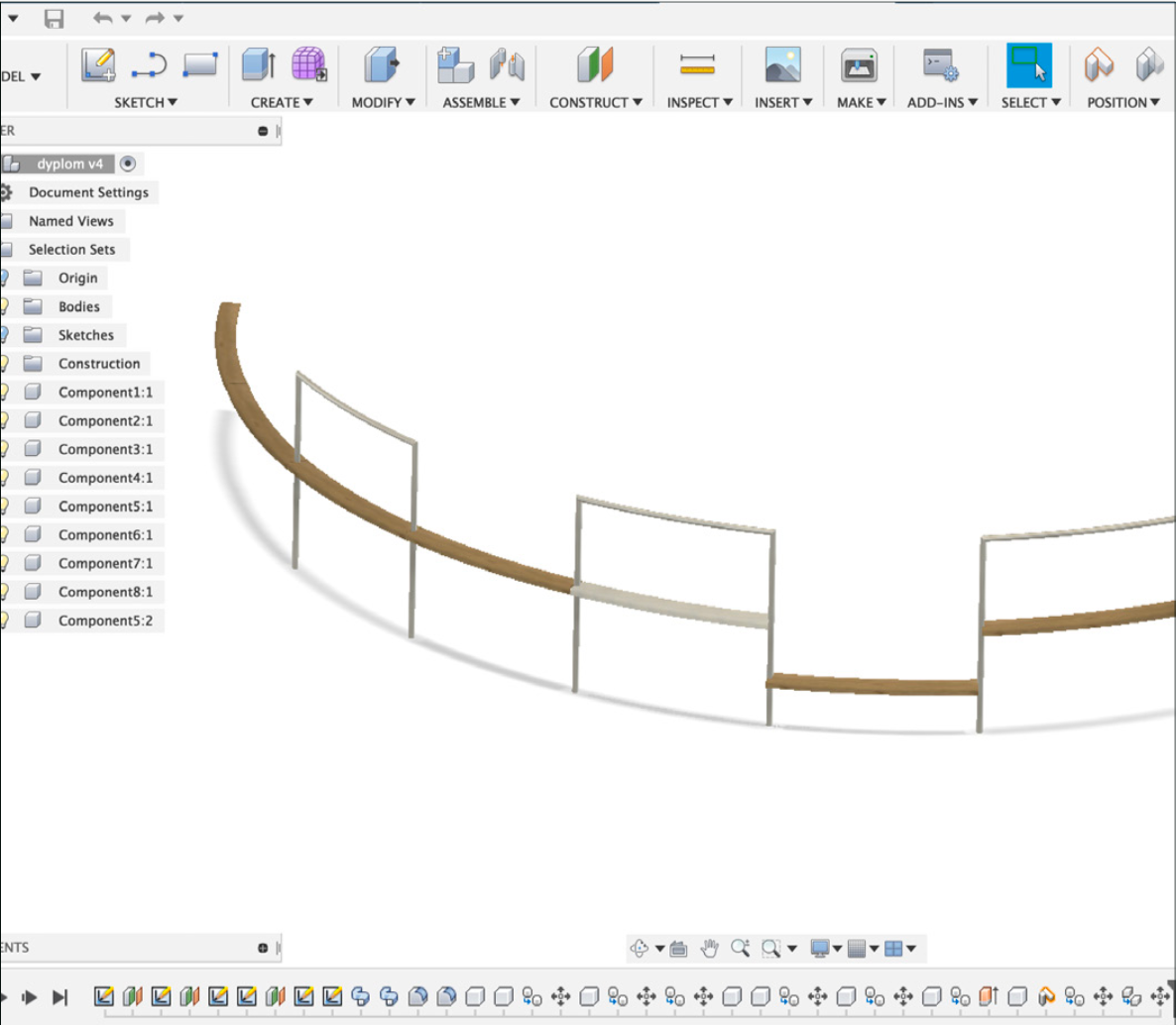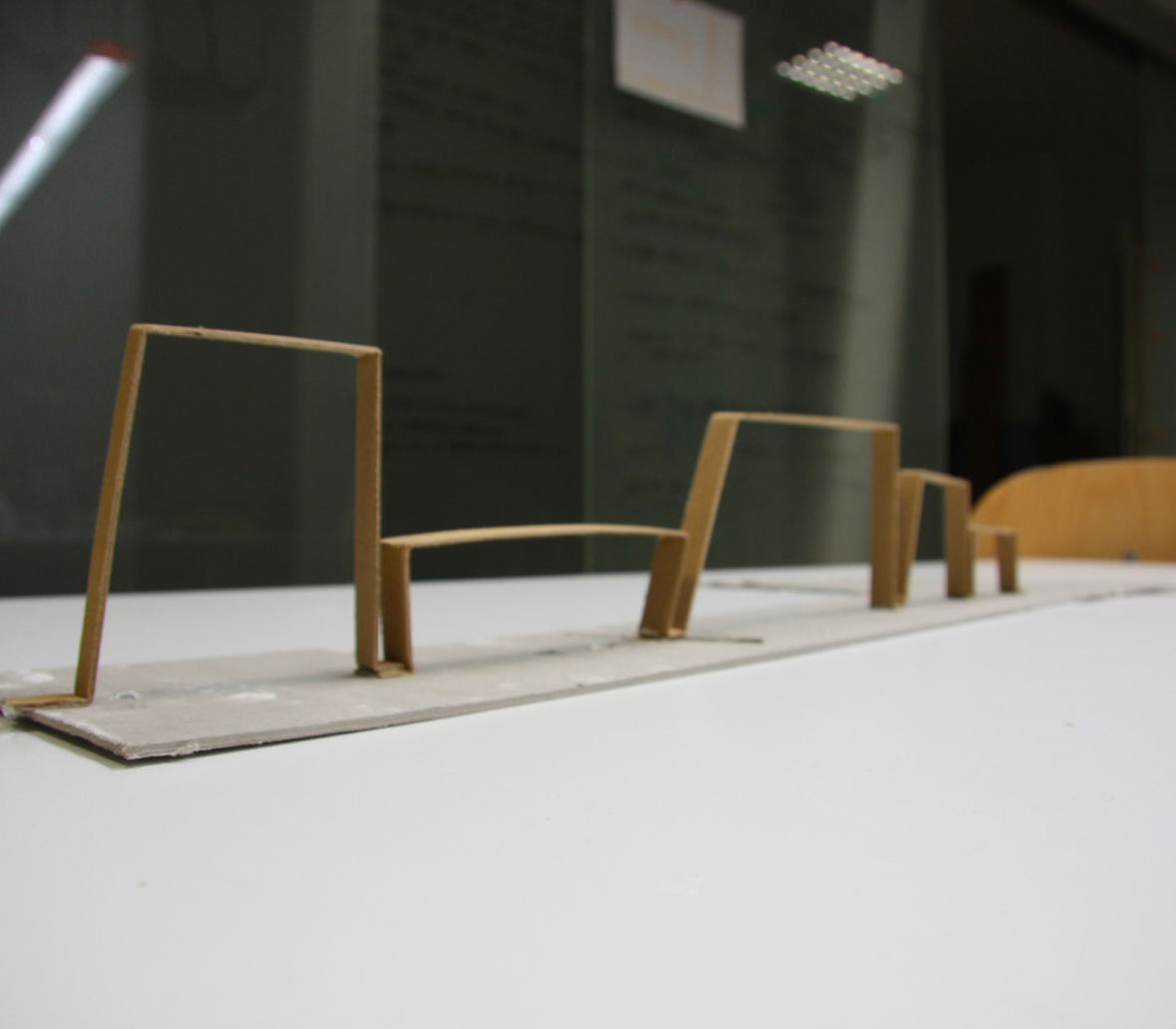 The first idea refers to the current, free-for-all and somewhat organic nature of 'Soup on Planty' as I originally found it. My concept was inspired by a tree structure. 
The second pertains to the characteristic round shape of the space. My second idea is based on replacing the useless fencing around the inner circle with a functional structure which is inspired by a carpet hanger (trzepak) - an important but disappearing communal feature of apartment buildings in Poland.
The third one is a development of the second idea – a multifunctional rail. The form is the result of several functions: lighting, a serving space, a stand up eating table, bench, places for personal things, and bike stand. 
The third idea fulfils the needs of all three user groups of the space.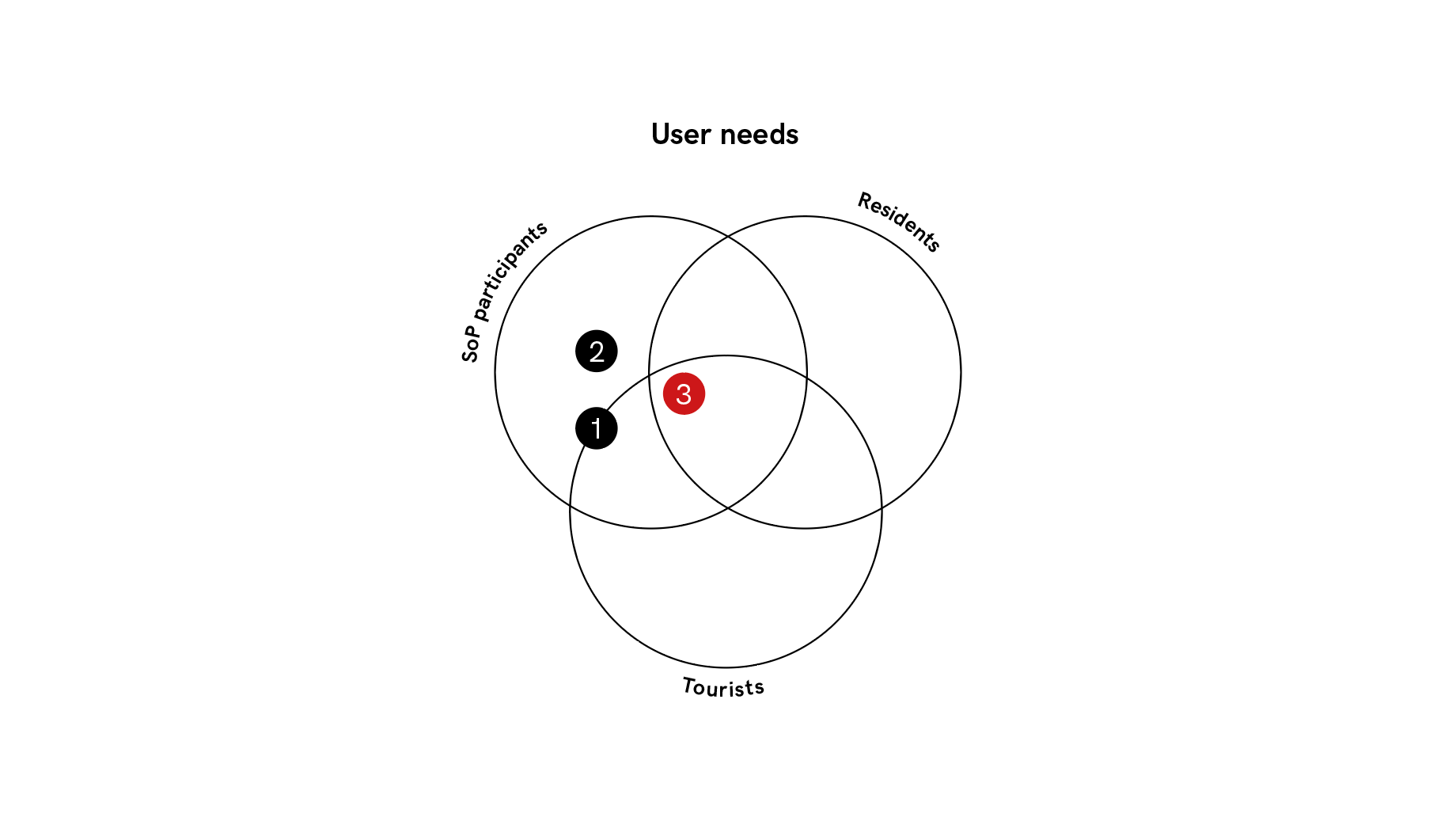 Refinement
After choosing the best concept to develop, I made models to prove the concept and test the materials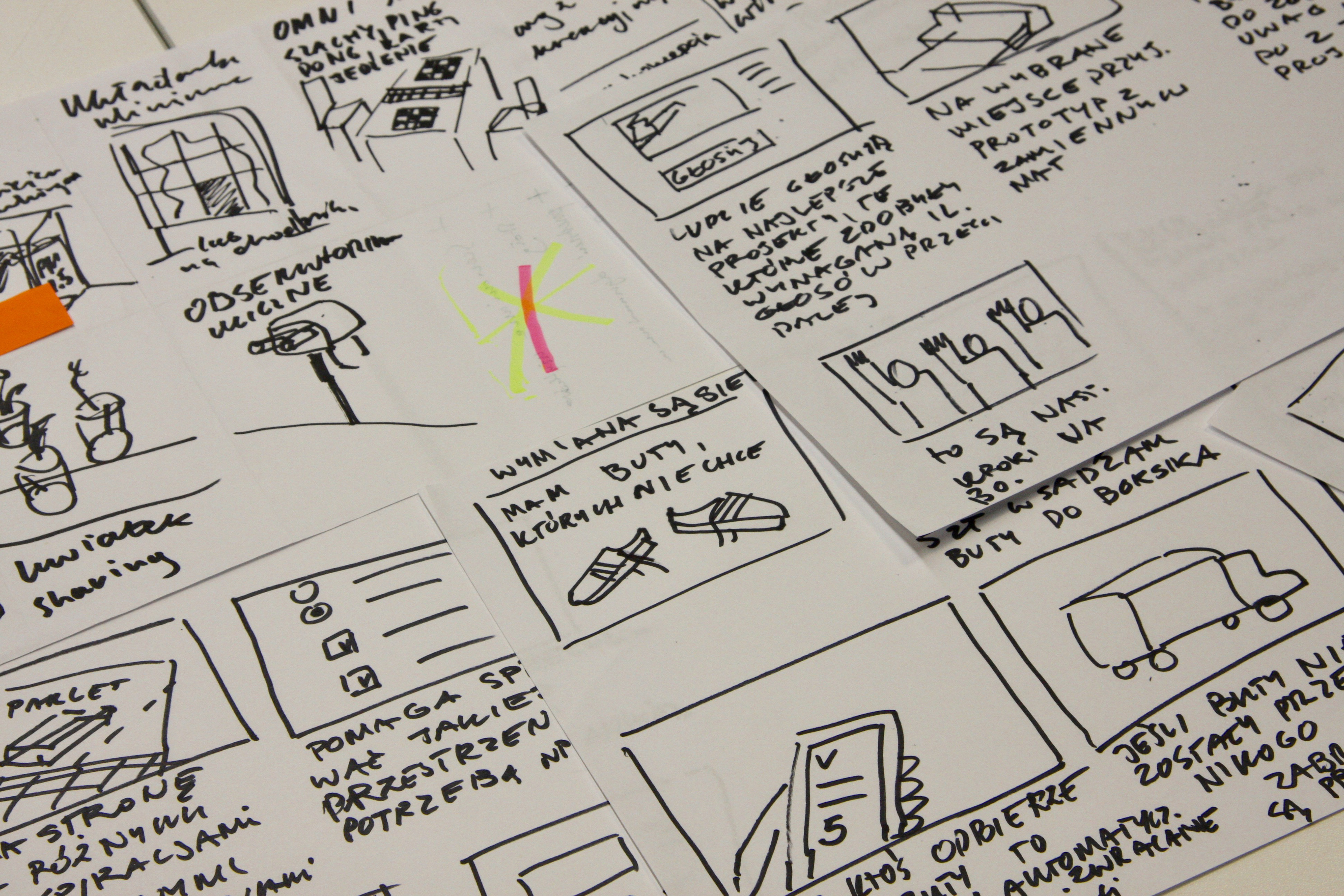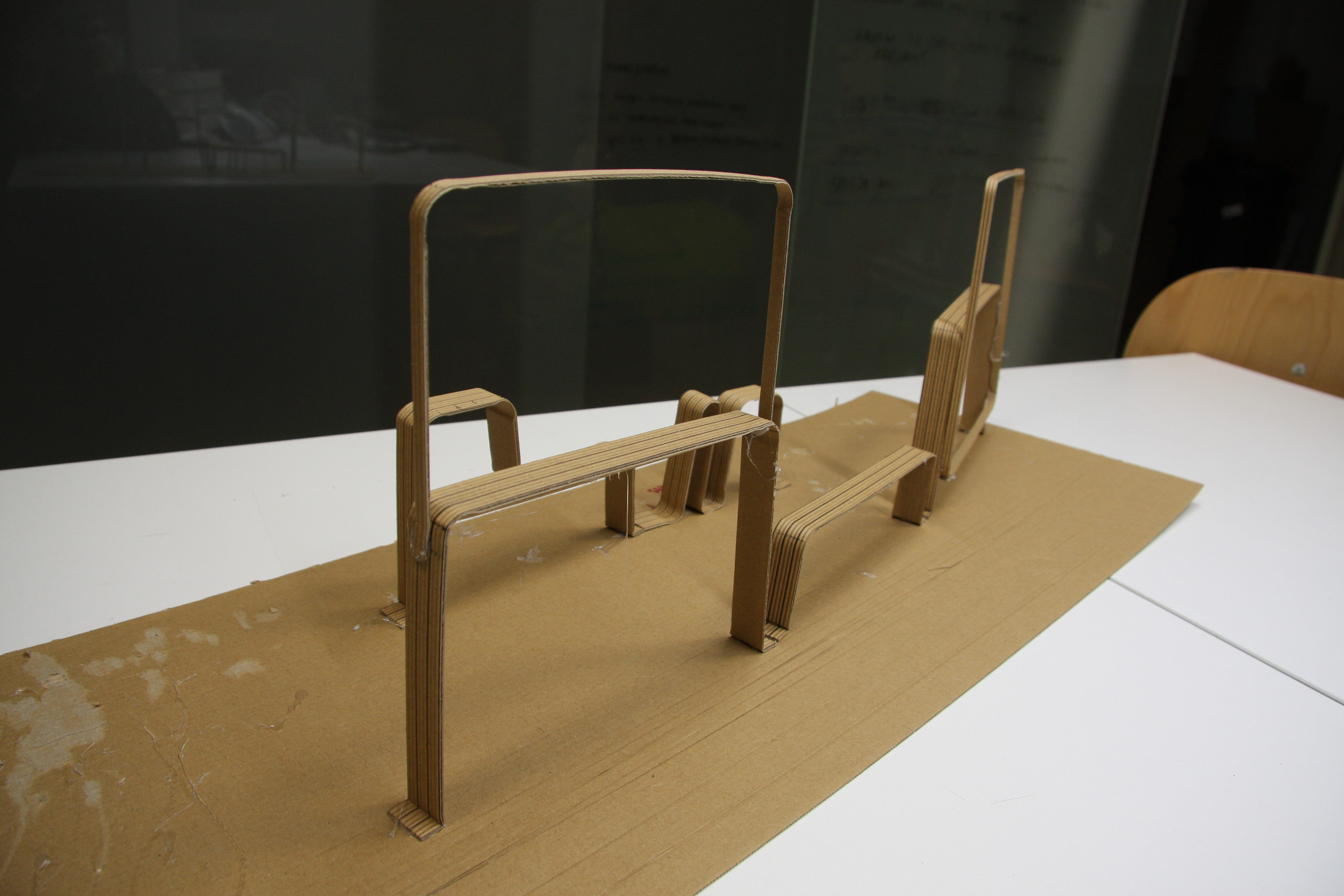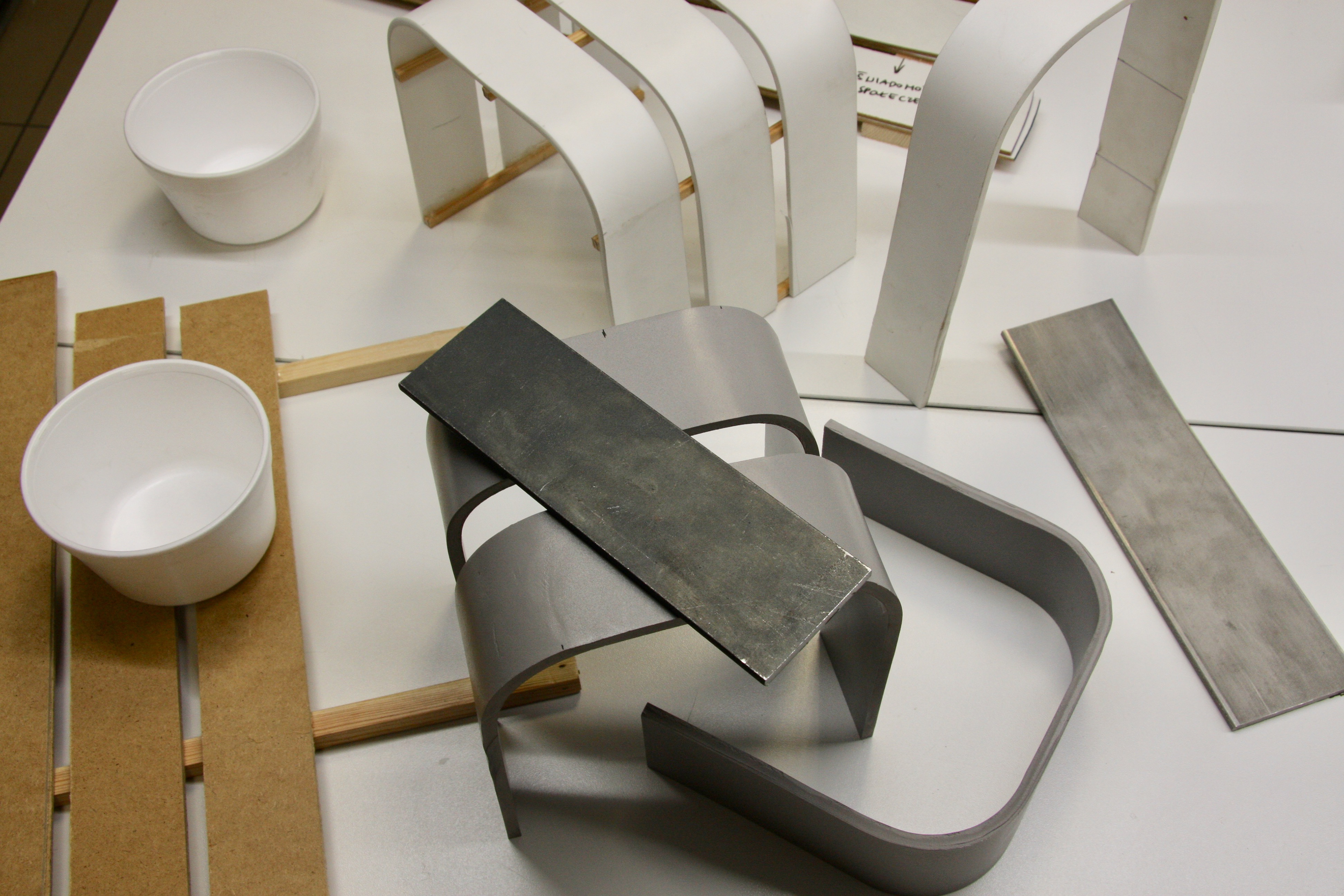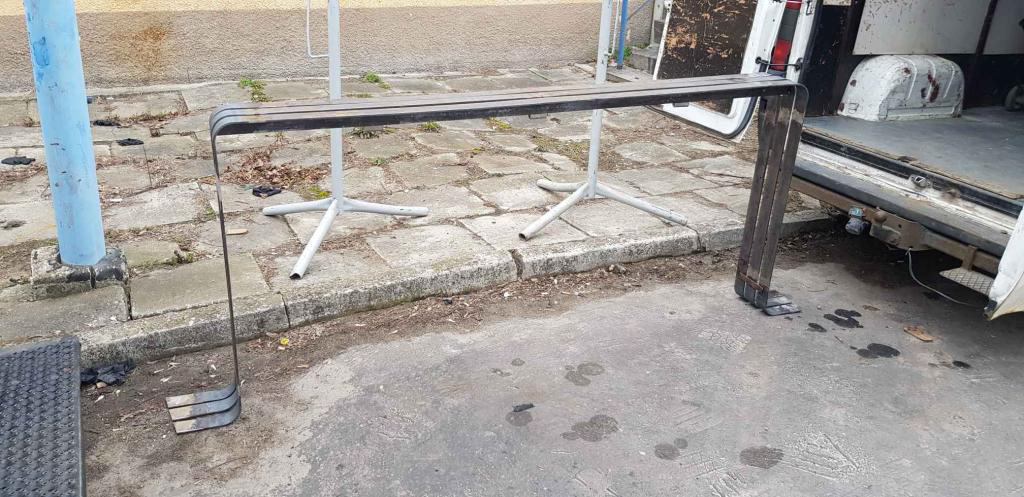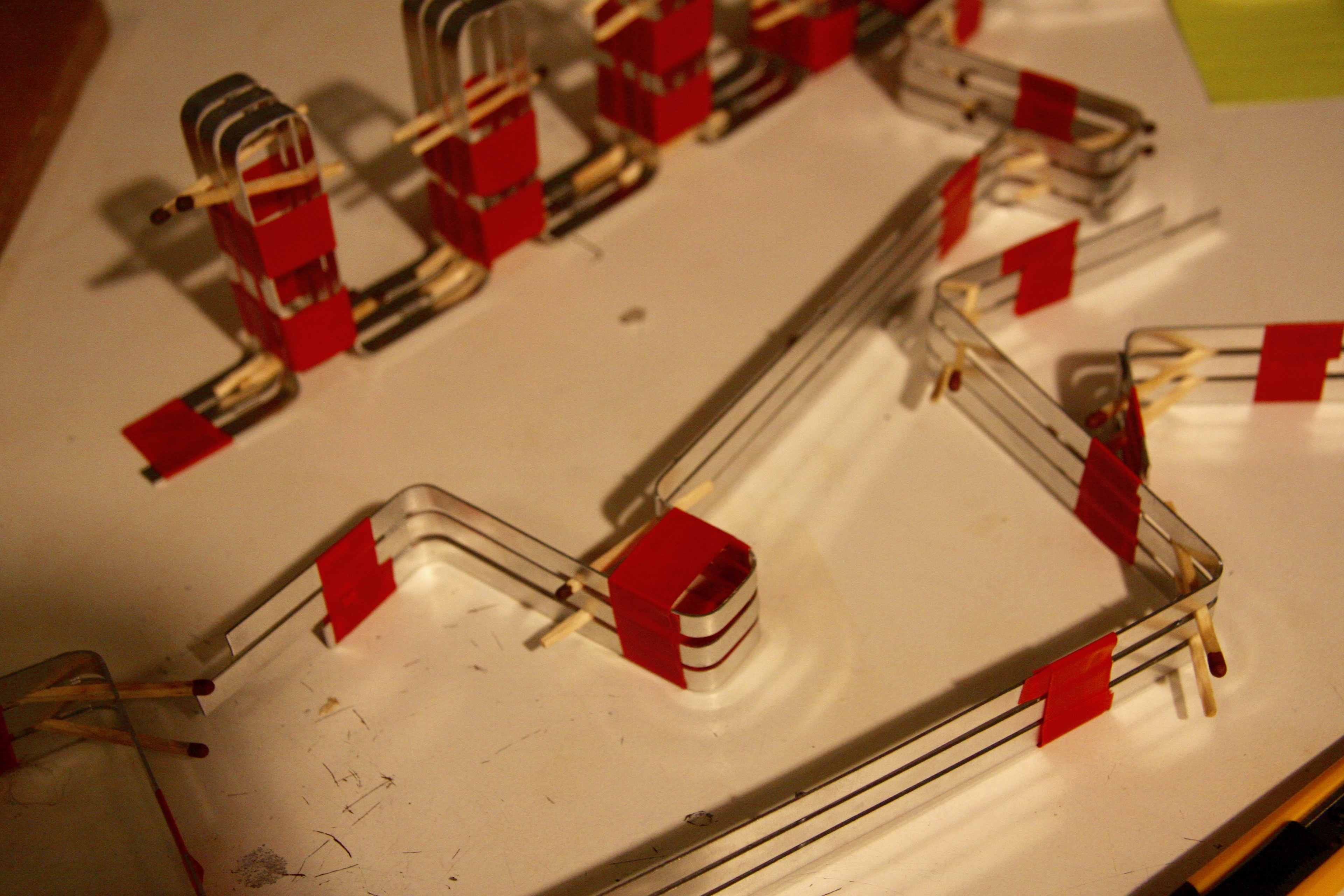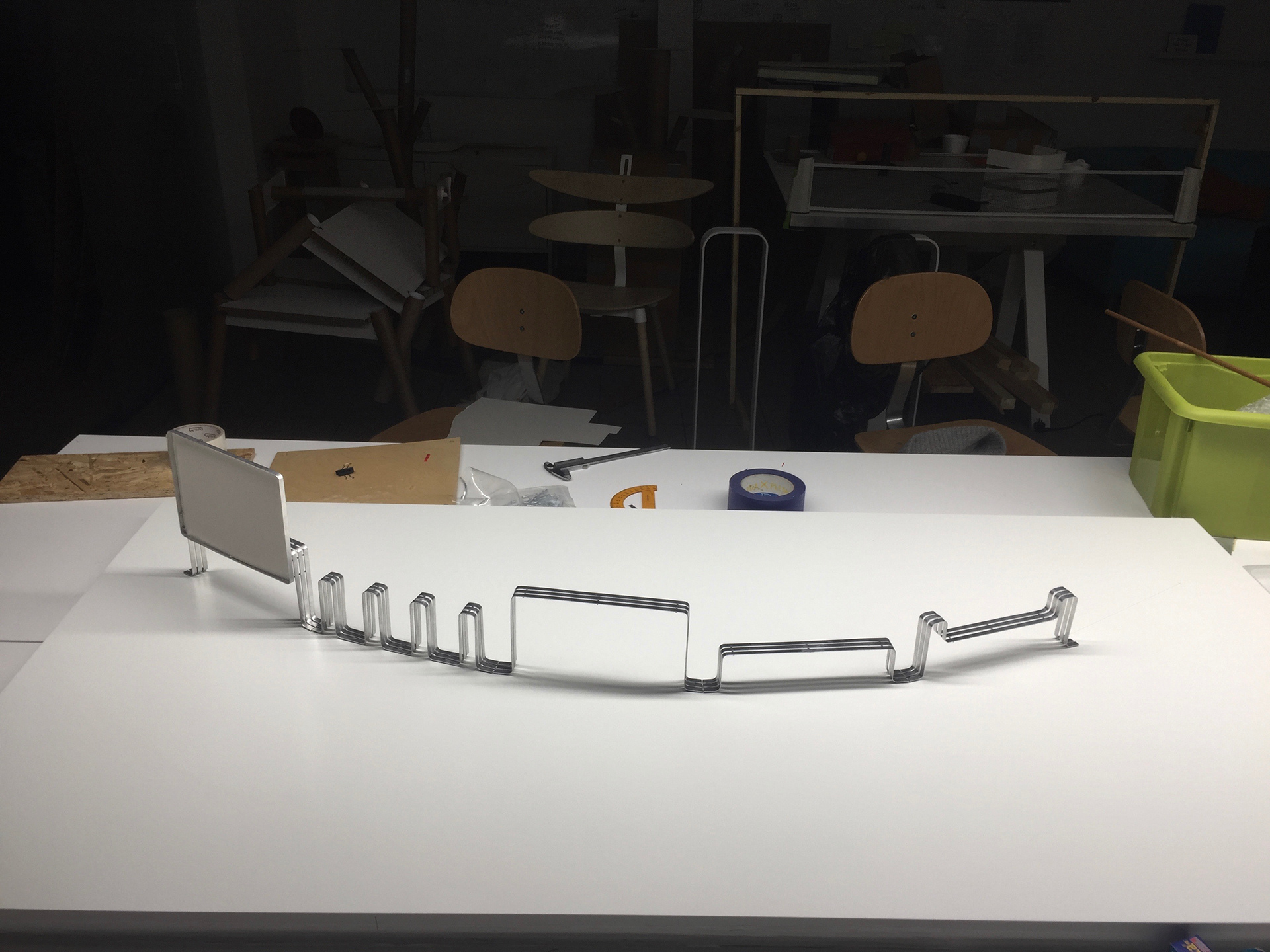 Solution
Modular street furniture
The system has 6 modules: a table, serving spot, bike stand, 2 types of seating, and information board. 
The characteristic form is a landmark, which creates an identity of the space. At the same time it corresponds to the rest of the city furniture at the spot.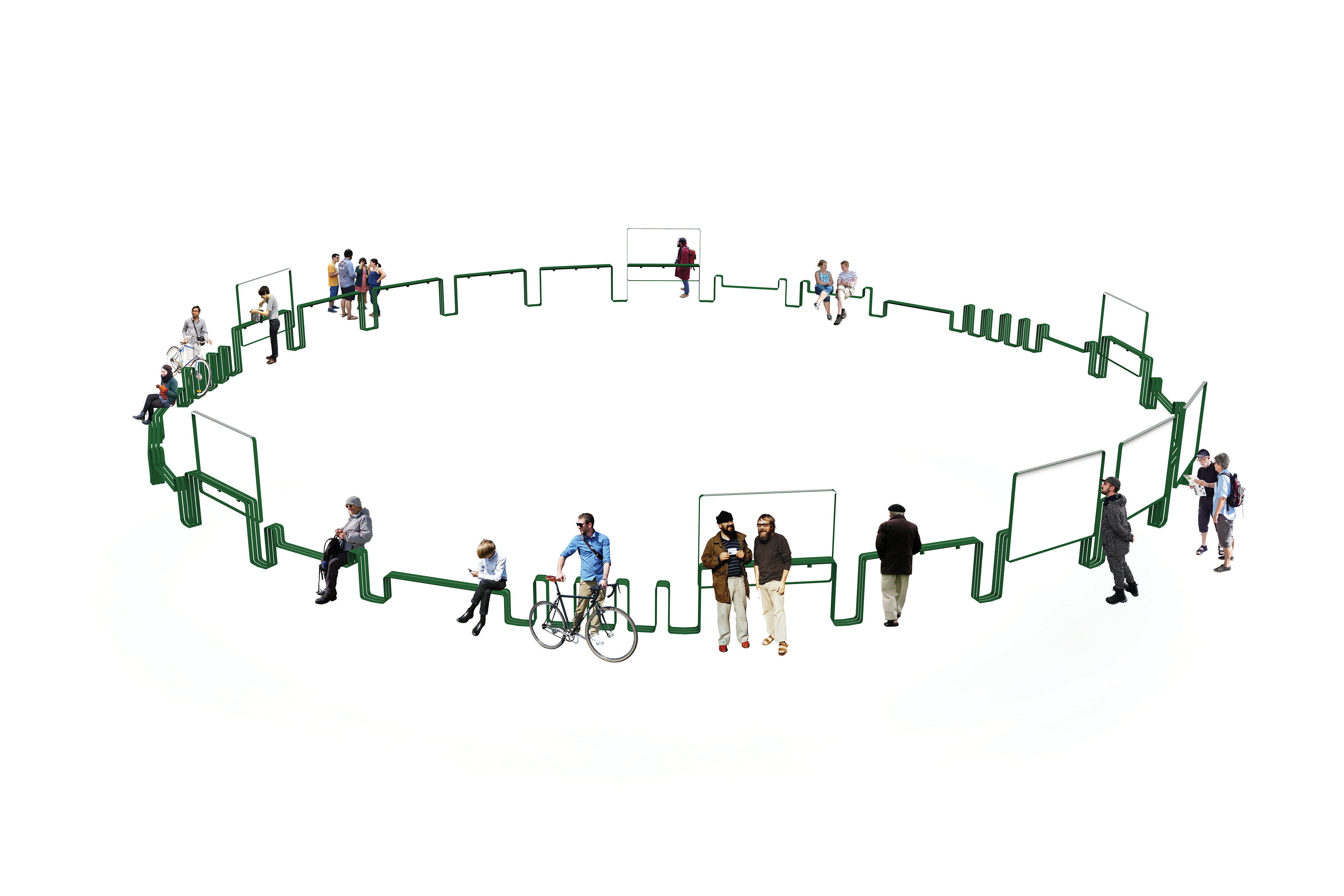 Table
The space is limited, so it is necessary to eat whilst standing up. High tables provide comfortable eating conditions and provide a places for hanging personal belongings in a safe space. Stand up eating is conducive to conversation and moving from place to place.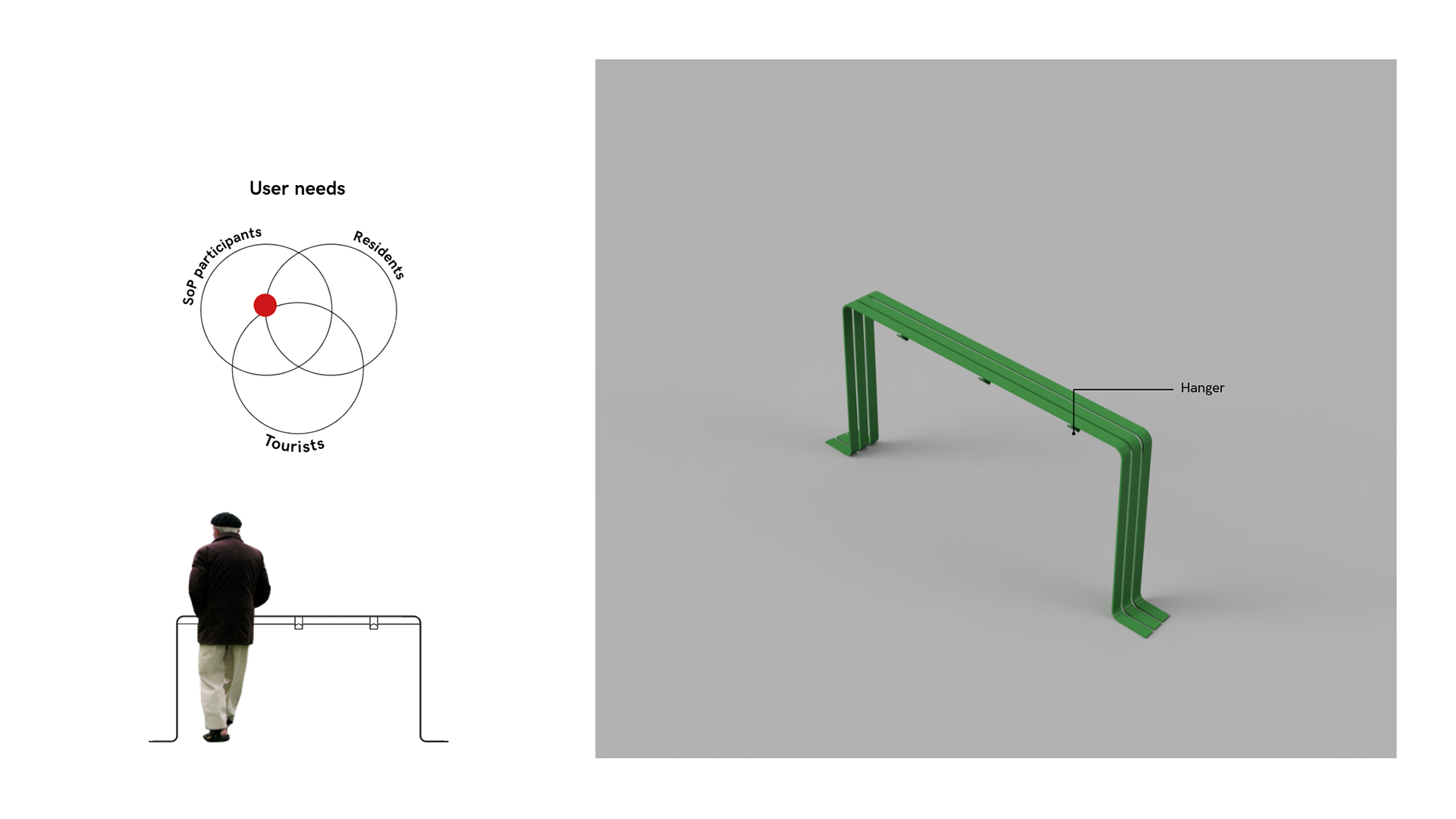 Serving spot 
Volunteers reported problems with serving things and lighting. The serving spot responds to this problems and can also works as a floodlit table.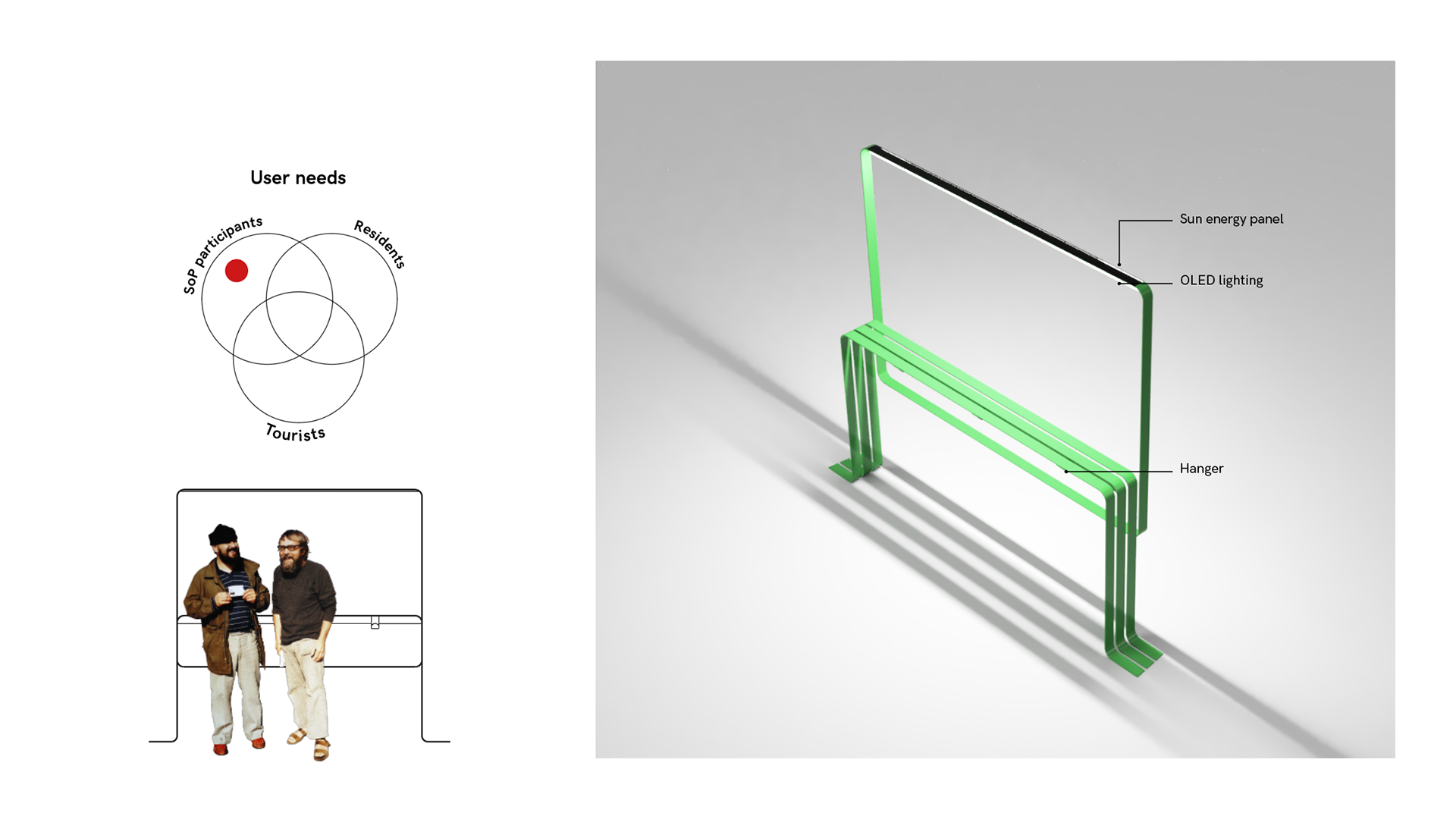 Seating 1
When this place was originally planned, nobody knew it would have to host up to 200 people. At present there are only 10 benches there.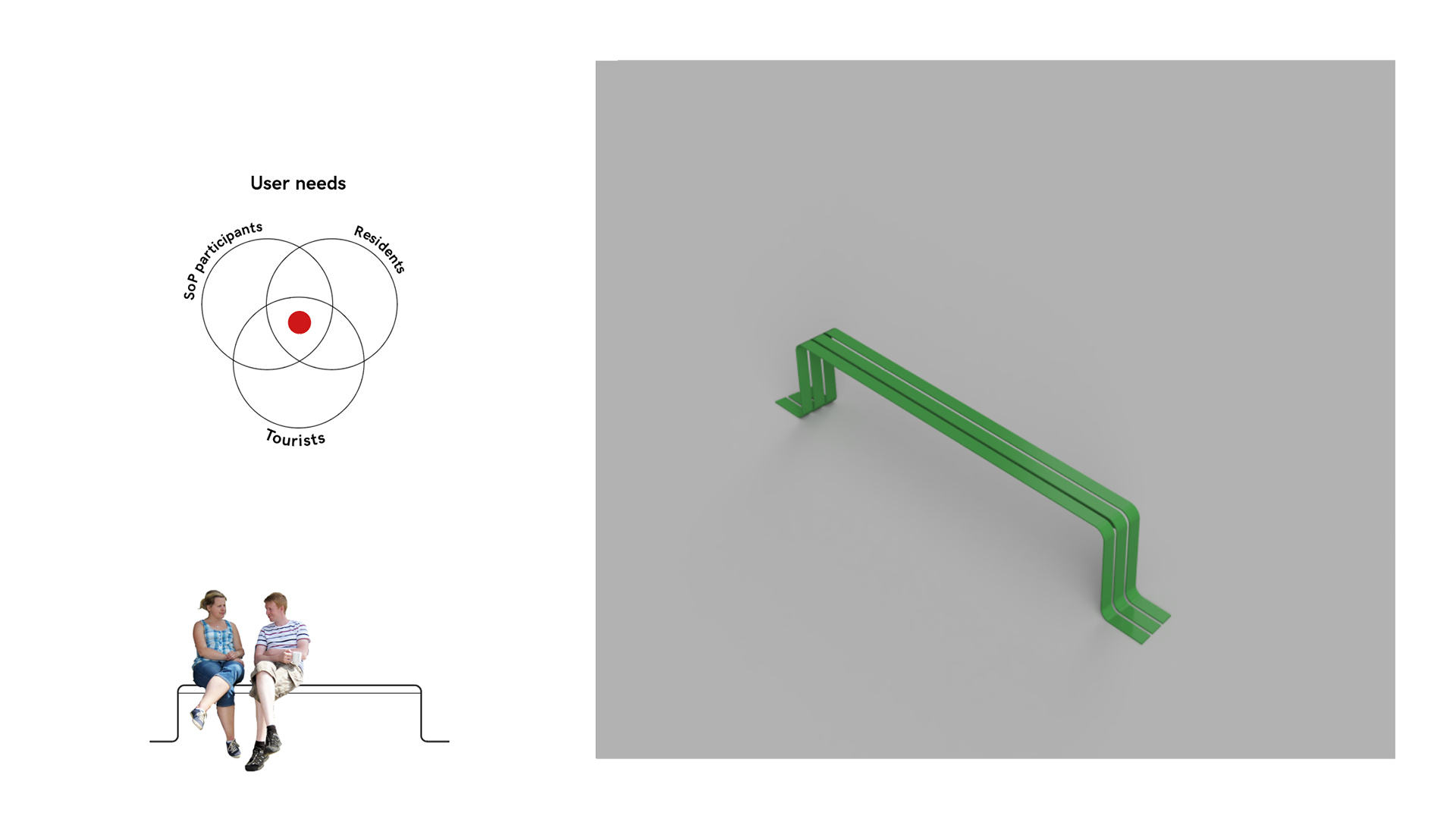 Seating 2
Second option of the bench has small countertop gives the opportunity to eat while sitting.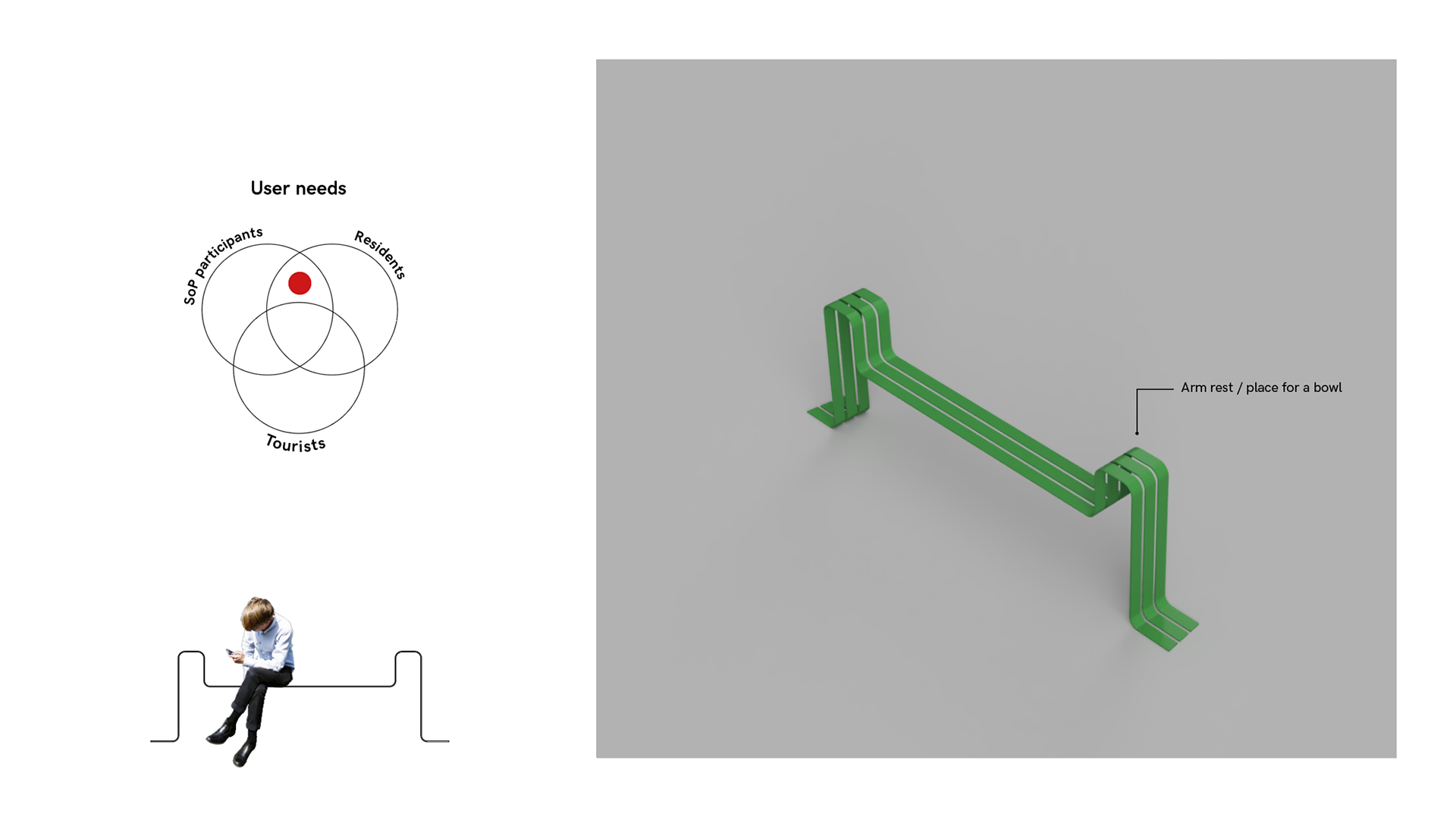 Bike stand
The Planty is an important communication route for cyclists. During the week the module furniture could be used as a bike stand. 
During "Soup on Planty" it can be use for putting soup bowls or a space for hanging additional trash bags.
Info board
The spot is often used for occasional exhibitions. It's also a good, visible place for a city map.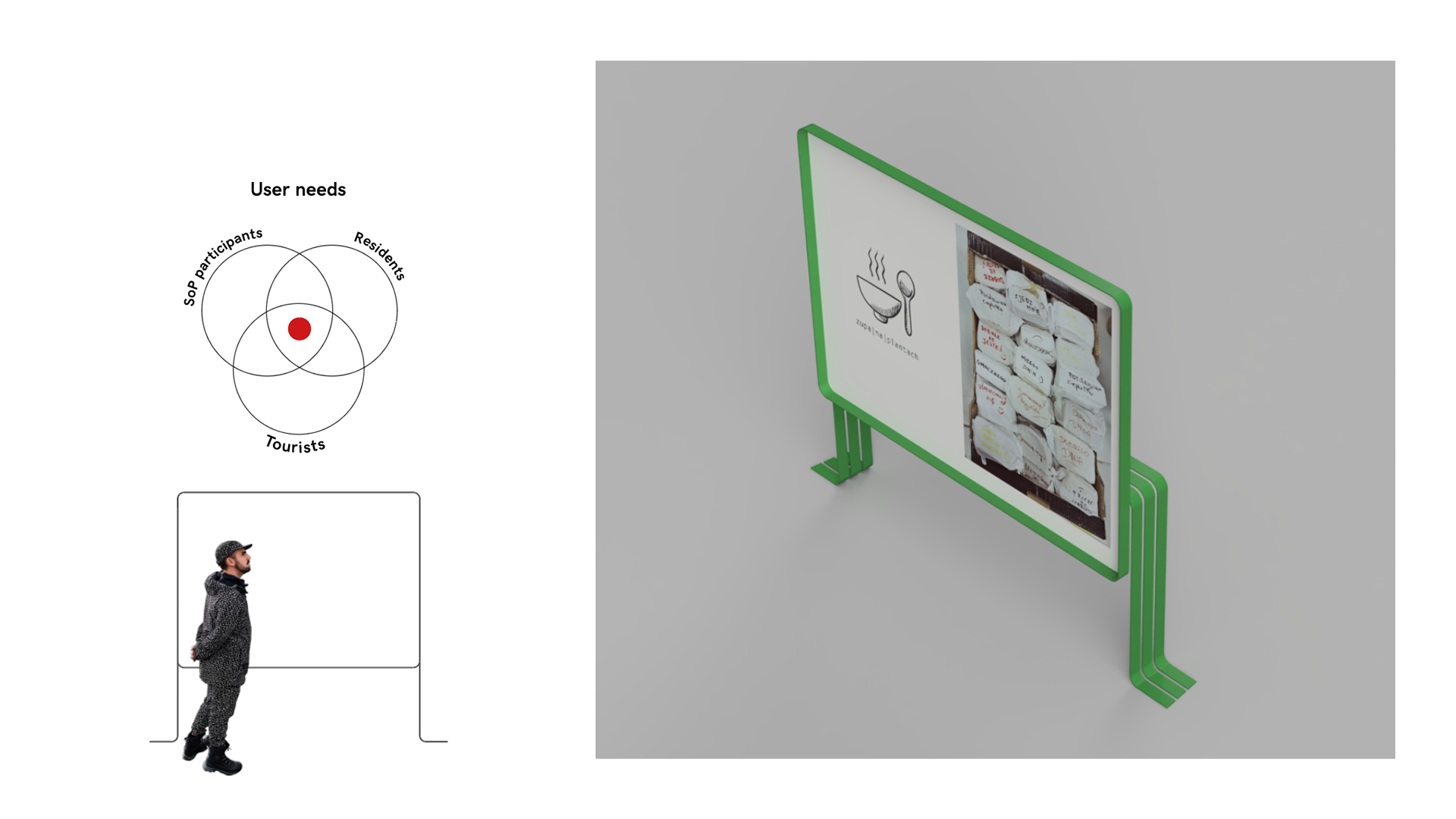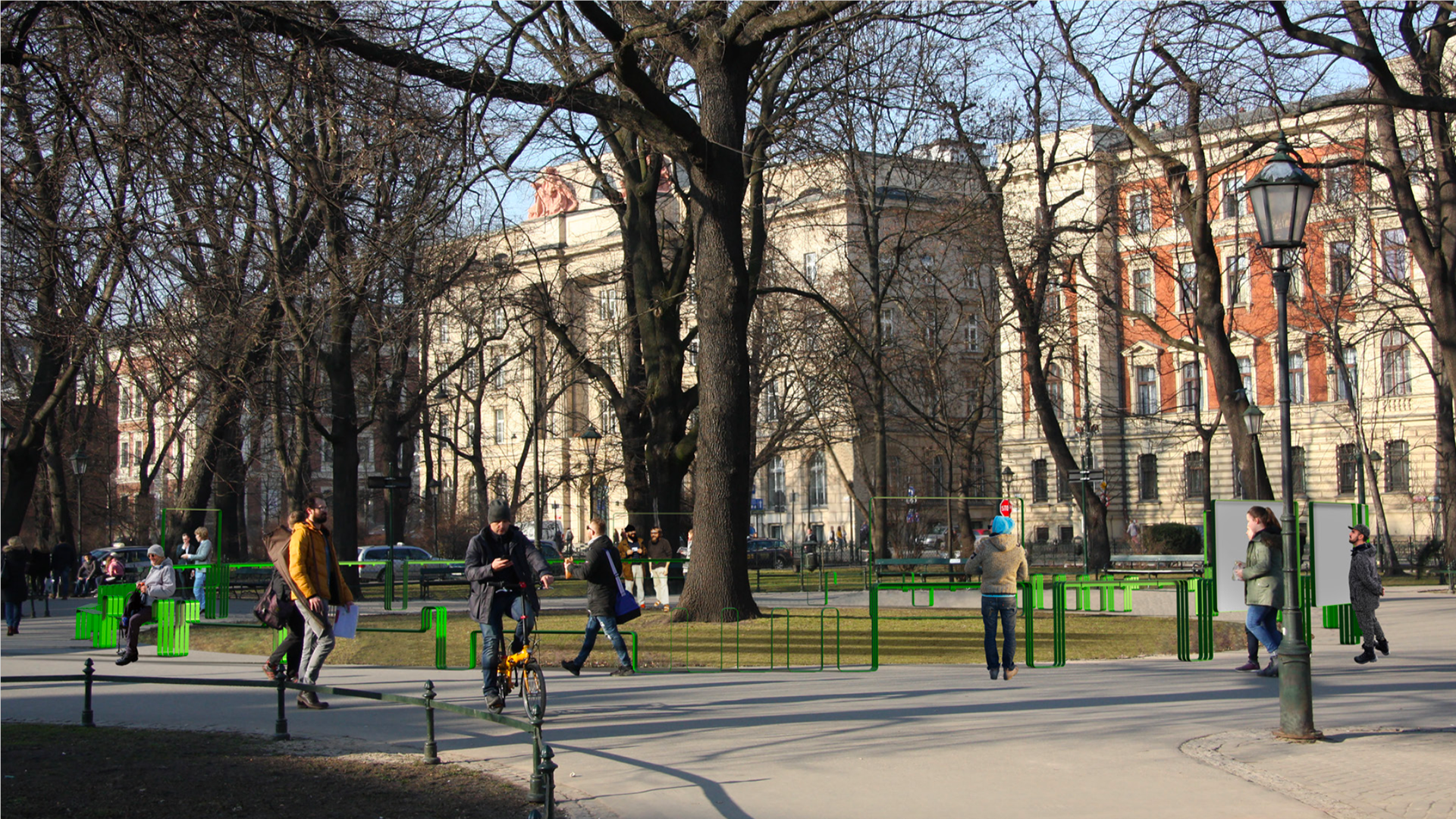 This project was my BA thesis at the Design Methodology Studio at the Industrial Design Department, Academy of Fine Arts in Kraków.
Supervisors: Piotr Hojda Phd, Stanisław Póltorak Phd